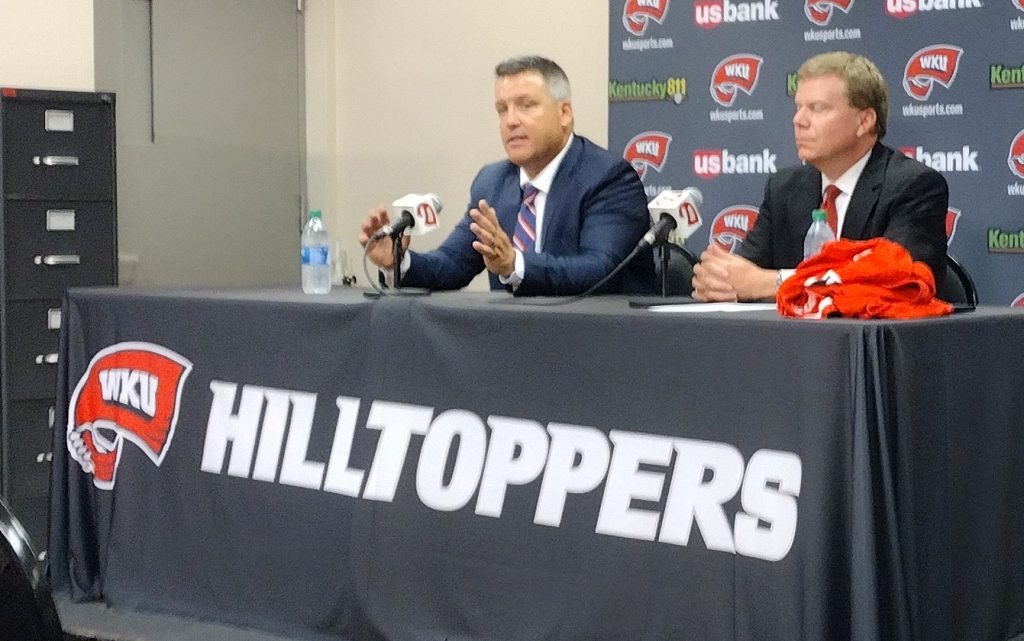 HILLTOPPERS LOOKING FOR FIRST NCAA TOURNAMENT BERTH SINCE 2009
Marc Rardin has spent roughly 30 years in collegiate baseball, the last 20 as the head coach of NJCAA powerhouse Iowa Western in Council Bluffs, Iowa.
If Council Bluffs sounds familiar, it's probably because it's the smaller city across the Missouri River from Omaha, Nebraska, the longtime home of the NCAA Division I College World Series.
On Thursday morning, Western Kentucky University introduced Rardin as the 17th head baseball coach in school history, and suffice it to say Rardin knows how to "win the press conference."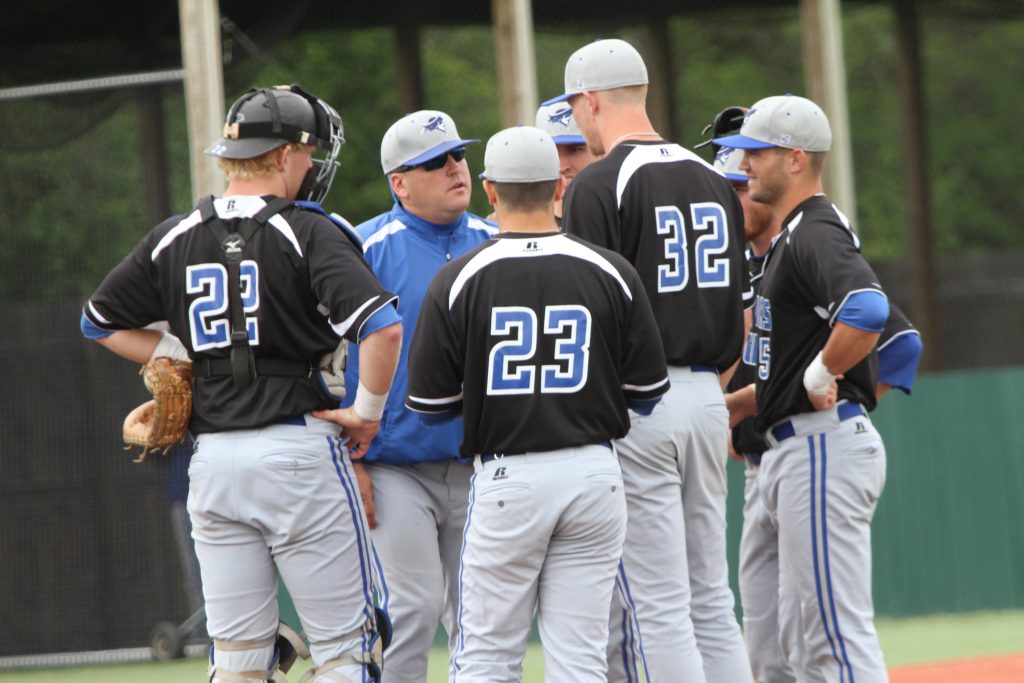 Of course, it helps when you have a few skins on the wall, and Rardin has plenty.
Rardin has taken Iowa Western to the NJCAA Division I World Series, 12 times over the course of his 20 years at the school, while winning national championships in 2010, 2012 and 2014.
That's consistency.
And consistency has been sorely lacking with the Western Kentucky baseball program over the last few years, particularly this spring, when WKU stumbled home with an 18-36 record.
The Hilltoppers bottomed out under former coach John Pawlowski, in his seventh and final season at the school. Western lost its last seven Conference USA games, finishing a dismal 7-23 in the final league standings. Beyond that, as WKU athletics director Todd Stewart pointed out, the Hilltoppers haven't qualified for NCAA regional play since 2009.
That's when Western battled out of the losers' bracket, forcing a winner-take-all game with homestanding Ole Miss at Oxford-University Stadium in Oxford, Mississippi.
Ole Miss coach Mike Bianco turned to his ace left-hander, Drew Pomeranz, and Pomeranz would spin an impressive two-hitter, sending the Rebels past WKU 4-1 and into the super regional round.
(Full disclosure, I covered that NCAA regional for the Biloxi-Gulfport newspaper, and I covered SEC baseball for about 25 years, first in 1985 with the LSU Tigers in Baton Rouge, Louisiana.)
Todd Stewart, the Western Kentucky athletics director since 2012, also mentioned that the Hilltoppers have won 36 conference championships, in men's and women's sports, since joining Conference USA in 2014. They never came close to such a breakthrough in John Pawlowski's seven years on The Hill, and WKU's Nick Denes Field became a ghost town of sorts in the final few weeks of the 2022 season.
Stewart understands all of that. Likewise, Marc Rardin.
"Beyond winning, we felt we had to have enthusiasm with the (baseball) program," Stewart said. "We need energy, and passion, in our program."
Rardin, 51, was the logical choice to make that happen.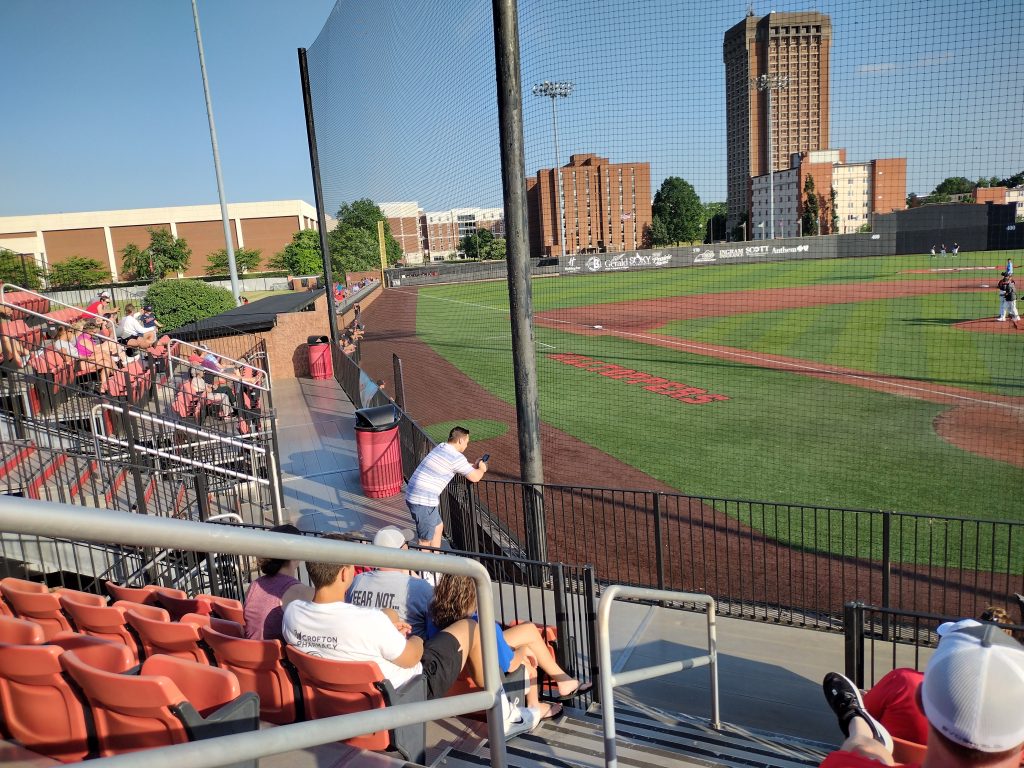 "I've had my eye on this program, for probably 10, 11 years," Rardin said during the press conference in the Paul Just Media Room, on the ground floor of WKU's E.A. Diddle Arena. "My wife, Dawn, grew up in Louisville, so we're very familiar with the area … I didn't play (college baseball) anywhere great; I wasn't a great player. I didn't have a pedigree, starting off, when I got done playing and going into coaching … From Day One, I had to work.
"I had to grind. I had to make a name for myself."
Rardin has certainly succeeded along those lines, but he's done it in relative obscurity in Council Bluffs, Iowa. Given his age, and experience, it seems WKU was a destination job of sorts for the longtime coach.
That's certainly the impression he gave Thursday morning.
"I'll be a walking, talking billboard for Hilltopper baseball," Rardin said.
He's already started working on hiring a coaching staff, and recruiting will be a challenge, given Western's struggles of recent seasons.
When Marc Rardin says he's excited to be at WKU, he means it. Some college baseball writers have looked at Western as a sleeping giant, given the high school talent in Kentucky, Tennessee and other nearby states in the Mid-South.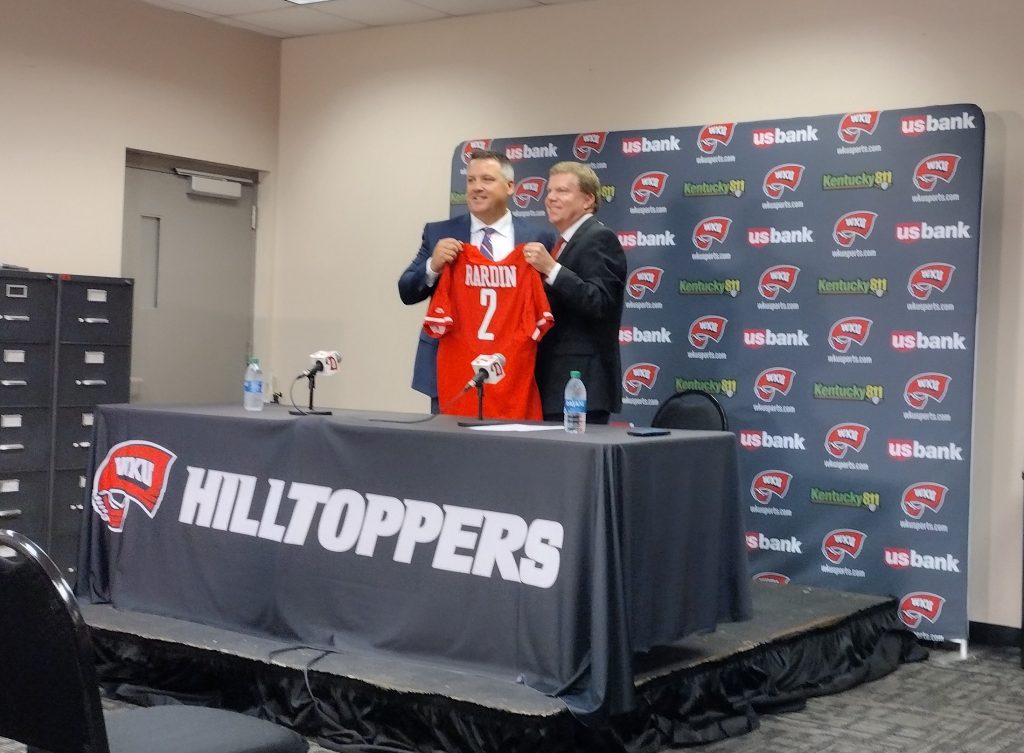 "I just want to get the right kids," Rardin said. "The kids need to know where we are, and that we're RELEVANT. That's important.
"I've gotten over 500 text messages, the last few days. Something like 50 phone calls. They're all saying the same thing. I've heard, 'Wow …' many times, and one of my coaching friends told me, 'That's a gold mine.'"
Heady stuff.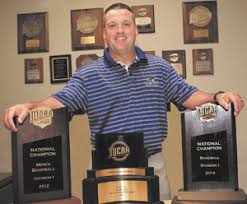 "I can't worry about the past (at WKU)," Rardin said. "This is Year One, and that's all we're really going to worry about. You roll outta bed one of two ways. You're either positive, or you're not."
Rardin said he's coached five Iowa Western players who moved on to play at WKU. He built a consistent winner at the two-year school in Council Bluffs, compiling a 934-352 record — that's an impressive winning percentage of .788 — along with 12 JUCO World Series appearances and national championships in 2010, '12, and '14.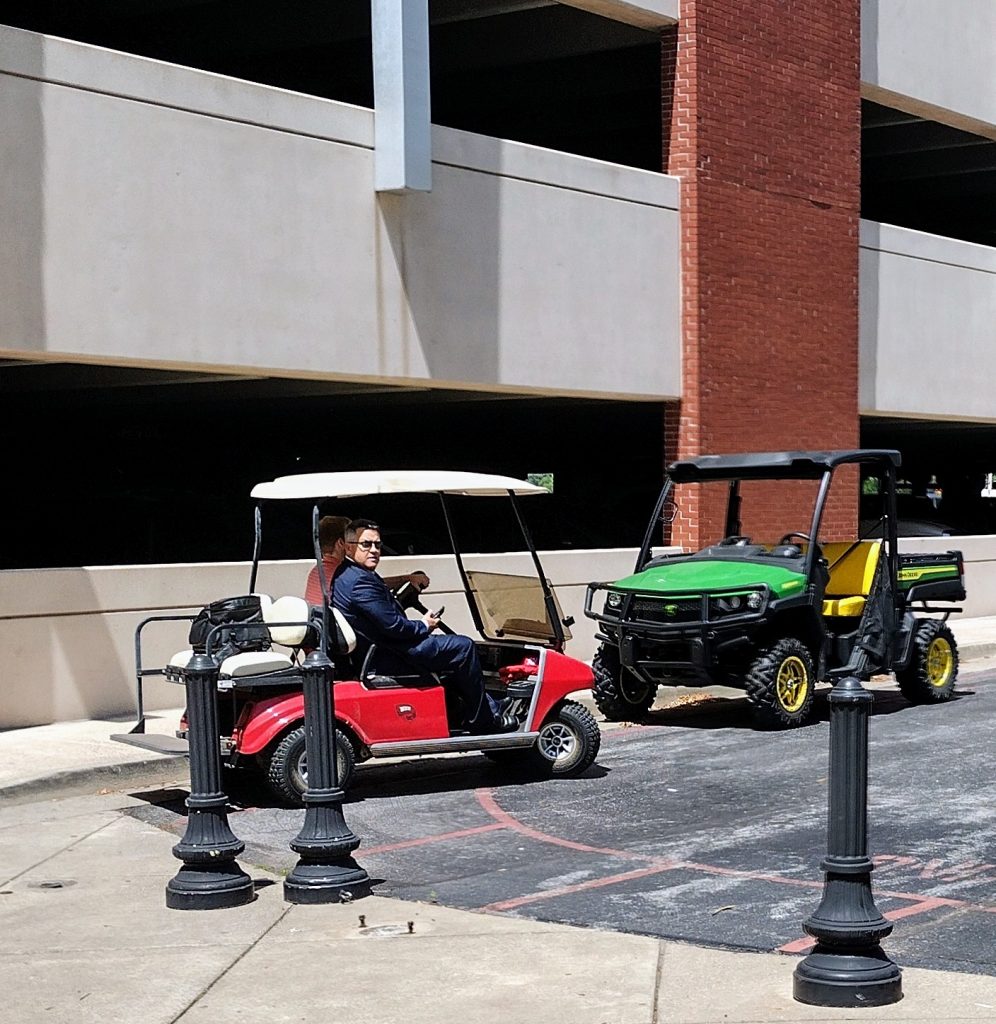 "You've got to surround yourself with the right people," Rardin said. "I probably turned down five or six Division II head coaching jobs, over the years, two (NCAA) Division I jobs, some assistant coach offers in Division I … I'm not taking this job because it's a two-hour drive from my in-laws …
"I love my in-laws, but that's not why we're here. It was the right time, for me, my wife and our two sons. We're excited to be here."
Rardin said recruiting in the Hilltoppers' back yard — South Central Kentucky, including Bowling Green and Warren County — would be part of his program building strategy. Bowling Green High School's Patrick Forbes, a 6-foot-4 shortstop/pitcher, is headed to the University of Louisville after being named Kentucky's "Mr. Baseball" earlier this month.
Russell County, the KHSAA 4th Region champion — the Lakers eliminated BGHS and Warren East on their way to the state tournament — finished second overall, falling to longtime Louisville power St. Xavier 11-1 in the championship game at the University of Kentucky.
Marc Rardin said establishing ties with South Central Kentucky baseball coaches will be a priority, and he's looking forward to recruit against the likes of Kentucky, Tennessee and Vanderbilt, in the SEC, as well as established programs at other nearby schools, such as the University of Louisville, Cincinnati and Belmont University in Nashville.
"Any place I've been, that's been a starting point," Rardin said. "You want to keep the best, at home. We want to keep them here … It's a huge priority."
Yes, it's fair to say Marc Rardin won the press conference on Thursday morning. Now the real work begins.