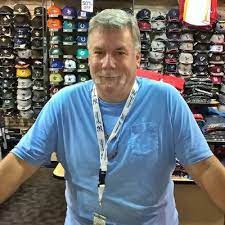 Jim Mashek
Jim Mashek is a sportswriter and columnist with more than 40 years of
daily journalism experience.
He was born in Dallas and raised in Houston and Potomac,
Maryland. He attended Western Kentucky University, walking on with the
football team in 1974. After his freshman year, Mashek played
fraternity football — it was an anything-goes-kinda-flag-football in
those days — with his friends in Sigma Alpha Epsilon
.
Mashek graduated from WKU in 1978 with a bachelor's of
arts degree in political science before returning to suburban
Washington, where he worked for two members of the U.S. House of
Representatives, the late Kika de la Garza (D-Texas) and the late
Ralph Regula (R-Ohio).
Mashek left Washington in 1980 to begin his journalism career at the
Baytown Sun, on the outskirts of Houston, and worked at eight
newspapers over the next four decades in five states — Texas,
Louisiana, Mississippi, New York and Kentucky.
After the landfall and devastation of Hurricane Katrina, Mashek toiled
as the metro columnist for the Biloxi-Gulfport newspaper, which was
awarded the Pulitzer Prize for Public Service in 2006.
Mashek spent 18 years on the Mississippi Gulf Coast and another six in
Baton Rouge, Louisiana, covering the New Orleans Saints and the
Southeastern Conference. He won numerous statewide, regional and
national awards before retiring in 2016.
Mashek covered the Saints' victory over the Indianapolis Colts in
Super Bowl 44 in Miami.
Mashek hails from a journalism family. His father, the late John
Mashek, covered national politics in Washington for more than 40 years
before his death in 2009. He's the oldest of John and the late Sara
Mashek's four sons, along with Dave (Maureen), Tom (Helen) and Bill
(Marianne). He has seven nieces and nephews and a cute Jack
Russell terrier mix named Piper, adopted from the Bowling
Green/Warren County Humane Shelter.
Mashek is passionate about sports,his family, politics, human rights
and dogs. He is single.