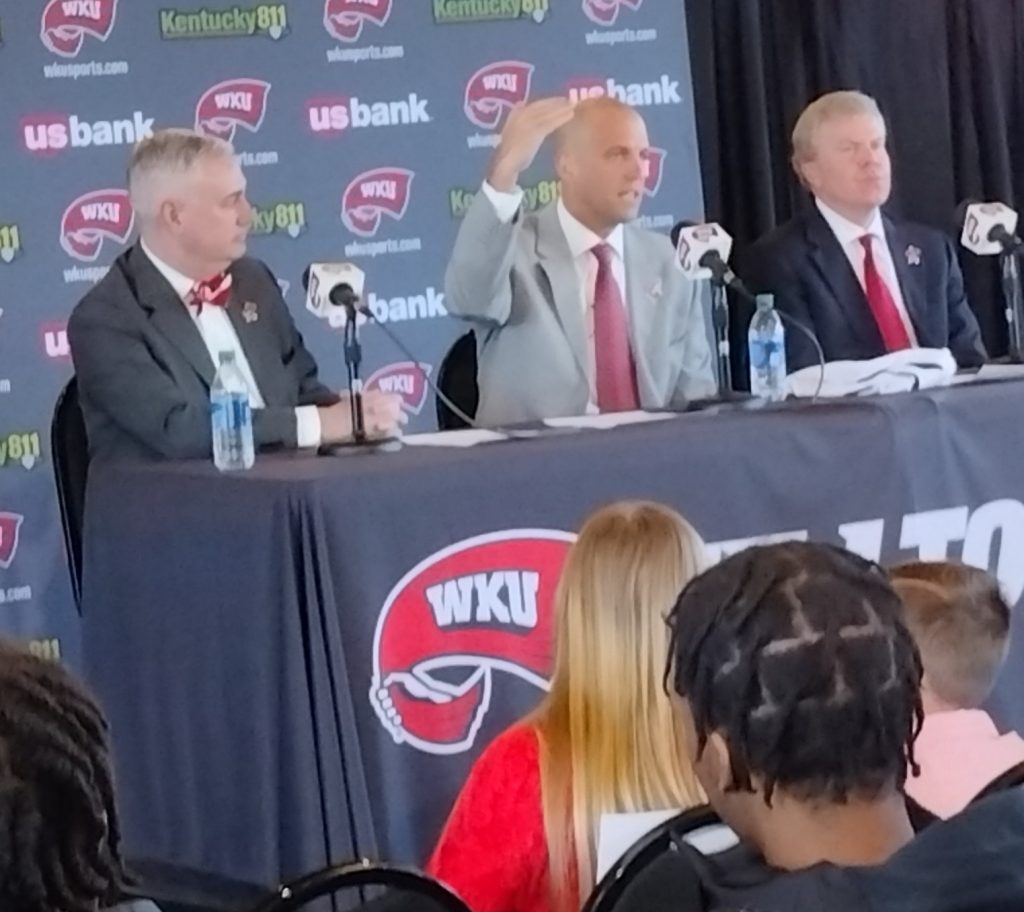 FORMER TEXAS A&M-CORPUS CHRISTI COACH BALANCES EXPERIENCE WITH WORK ETHIC, AMBITION
The place was packed.
The timing was right.
And, most important, the energy was THERE.
Steve Lutz was in the house.
Western Kentucky University rolled out the red carpet — WKU red, mind you — for the former Texas A&M University-Corpus Christi coach, who was introduced as the 16th head men's basketball coach in school history Monday morning at the Jack and Jackie Harbaugh Club inside Houchens-Smith Stadium.
Lutz brings promise, poise and most of all enthusiasm to a WKU men's program that needs all three of those attributes, after seven years under the stewardship of departed coach Rick Stansbury. Stansbury's heart was in the right place — he's a native Kentuckian, he loves the game and he cares about his players — but his approach was a little on the antiquated side.
Simply put, the Hilltoppers ran out of gas.
(Happened to me a week or so ago on the Western Kentucky Parkway, near the Muhlenberg/Ohio County line. Props to the Kentucky WIldlife and Fisheries officer who stopped and checked on Piper before the Good Samaritin could get me back to the Gray Ghost with a can of gas.)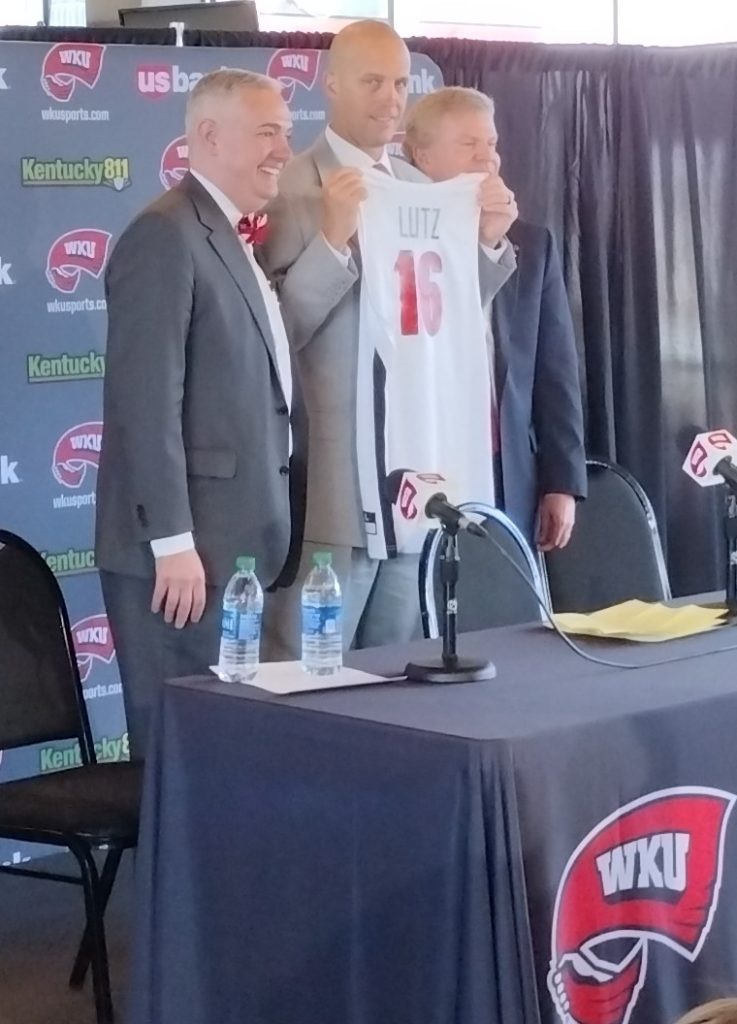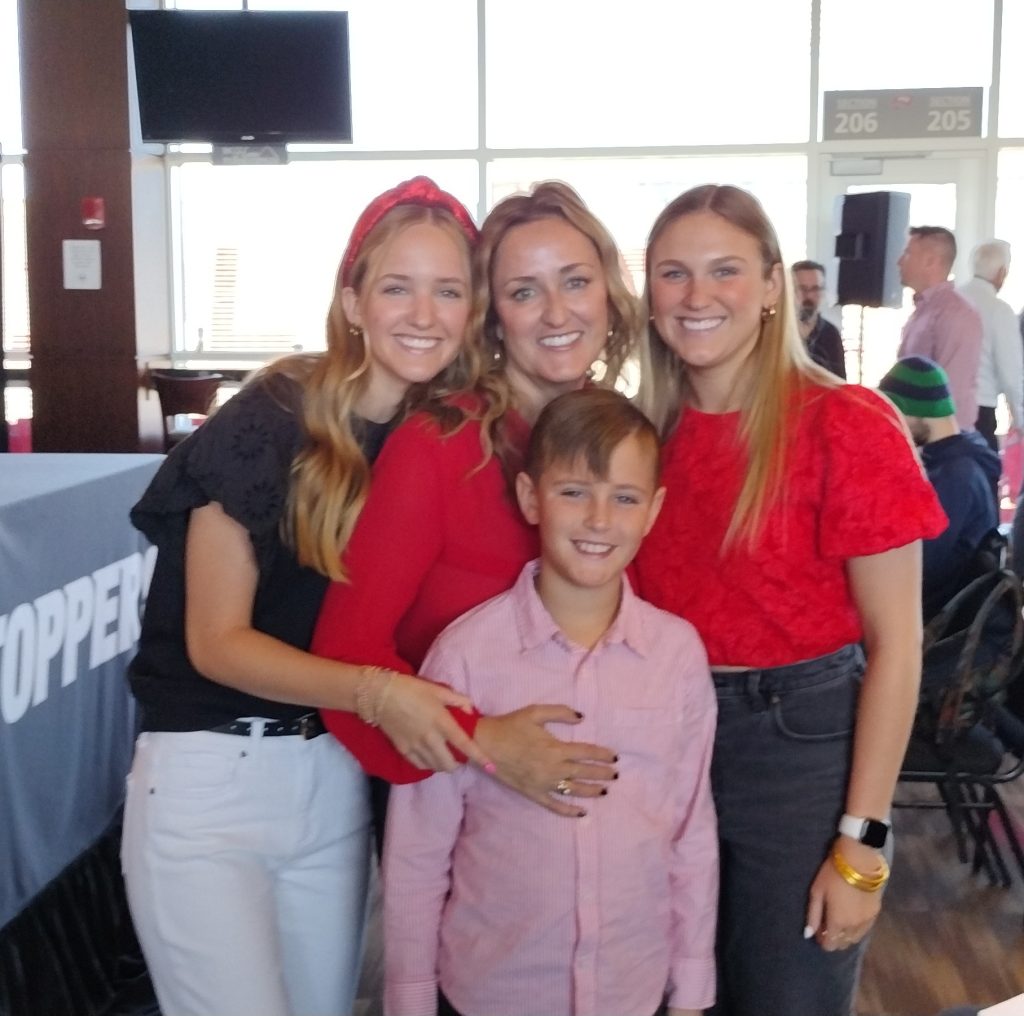 Steve Lutz has been waiting, his entire career, for a gig like this. He's paid a lot of dues, carefully climbed up the coaching ladder and made the most of his opportunity on the Coastal Bend of Texas, not exactly a college basketball hotbed.
Bowling Green wants to be one.
Bowling Green HAS been one.
Lutz is the kind of coach who can make that happen again.
Lutz definitely "won the press conference," as they like to say, on Monday morning. He appeared at the dais with WKU president Timothy Caboni and Todd Stewart, the university's longtime athletic director. WKU's athletic communications/media relations made a smart move by having Western's fifth-year head football coach — the poised, personable Tyson Helton — follow the presser with a few minutes of Q-and-A on HIlltoppers spring football.
I think Helton likes the hire, too.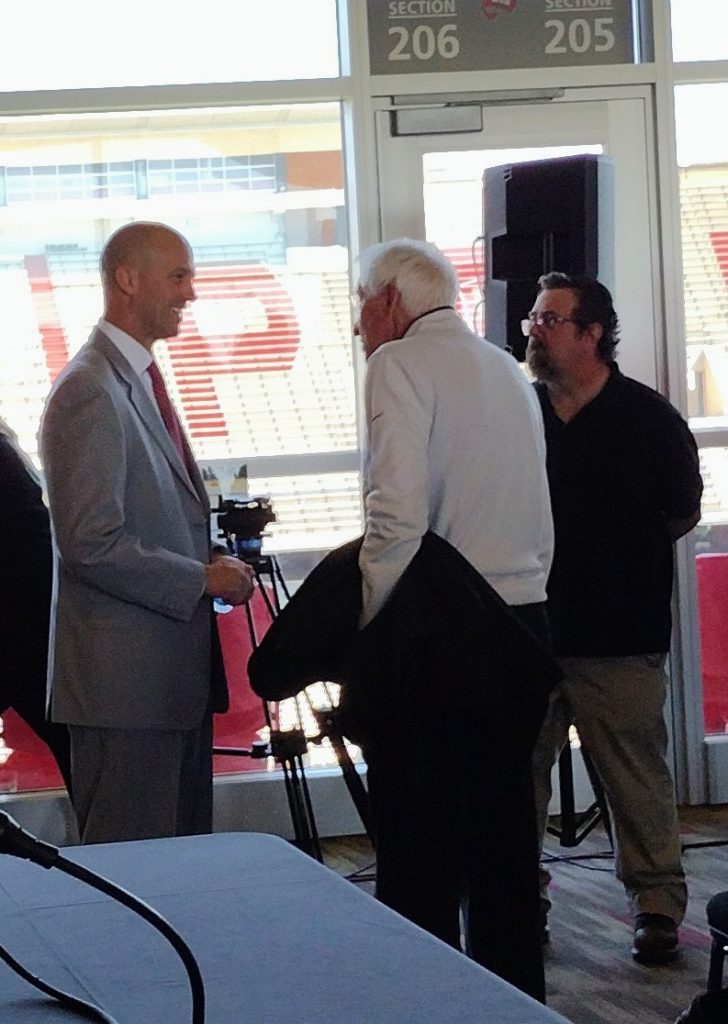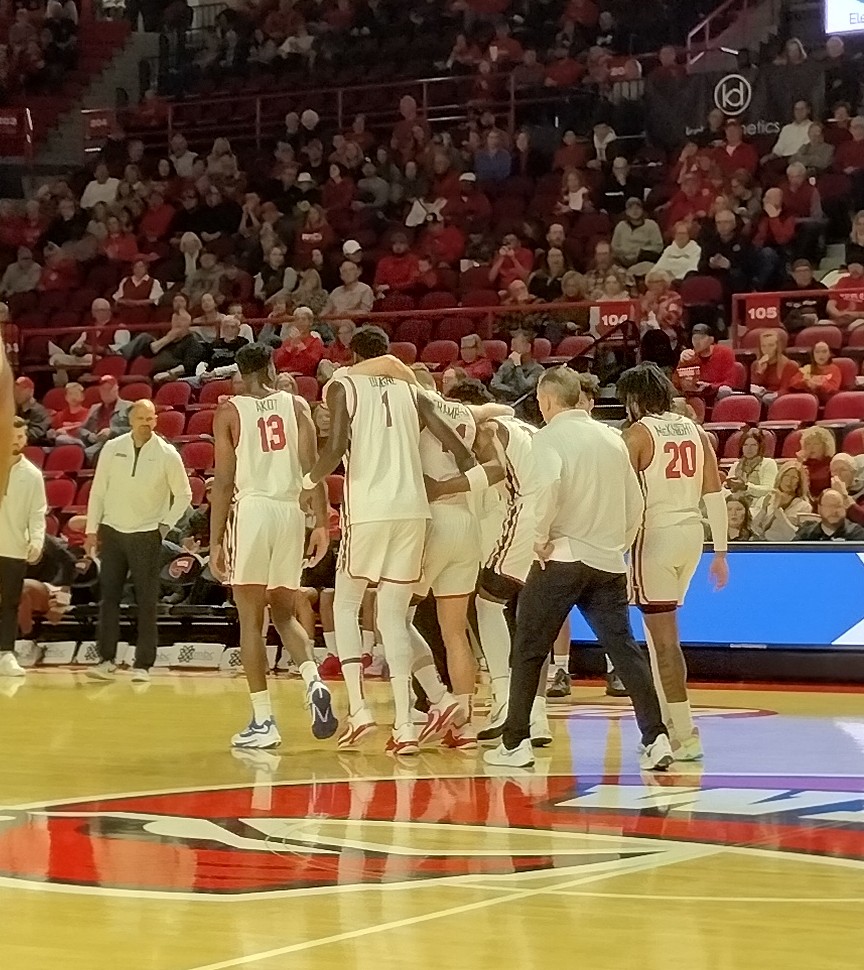 Stewart outlined what he was looking for in Stansbury's successor, and Lutz was a natural before the packed introductory press conference at Houchens-Smith Stadium. One week ago, Lutz was coaching Texas A&M-Corpus Christi in the NCAA Tournament, as the Southland Conference's lone representative.
And he won.
Lutz and the Islanders captured a victory in the First Four in Dayton, Ohio, defeating fellow No. 16 seed Southeast Missouri State, 75-71. Then the A&M-Corpus Christi crew made tracks to Birmingham, Alabama, where No. 1 overall seed Alabama was waiting.
Alabama 96, Texas A&M-Corpus Christi 75.
Lutz understands that WKU and South Central Kentucky are desperate for a top-flight basketball program. The Hilltoppers are hamstrung by what's left of Conference USA, no doubt about it, but they have tradition on their side, and they're a critical part of the basketball-mad environment across the state of Kentucky.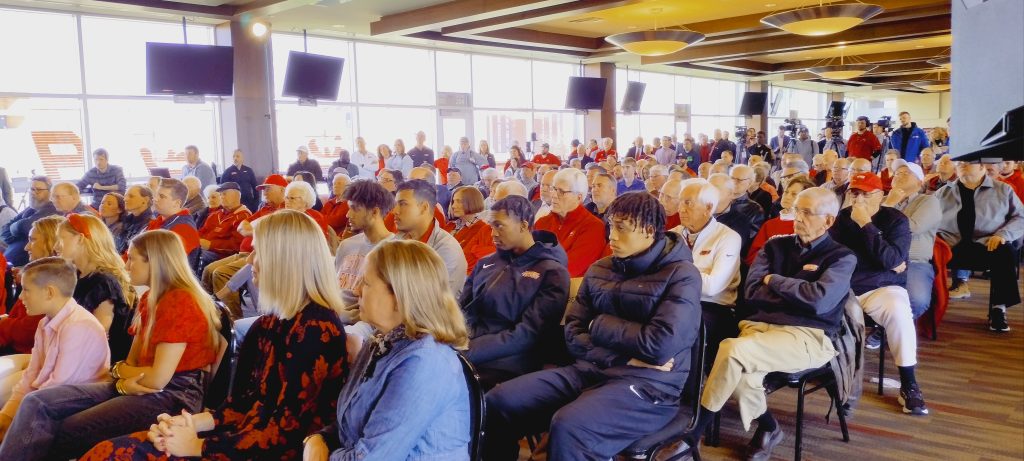 Four or five current WKU players were on hand for the press conference, and from what I understand, some of the others couldn't attend because of their class schedule. Lutz said he'd already met with most of the Hilltoppers returning from the disastrous 2022-23 season on Sunday, when WKU's Spring Break came to a close.
Lutz is sharp as a tack, and he understands WKU's basketball history.
"I fully understand what it means to be the head coach at Western Kentucky University," Lutz said. "If it wasn't for the vision of (Stewart and Caboni) I wouldn't be here today … They have a vision, of excellence, in everything that they do, and I share that vision.
"I am not shy about what we are here to do. We are here to win games. We are here to win conference championships … And we are here to go to the NCAA Tournament and win games.
"All while doing that, we are here to do it the right way and do it with integrity."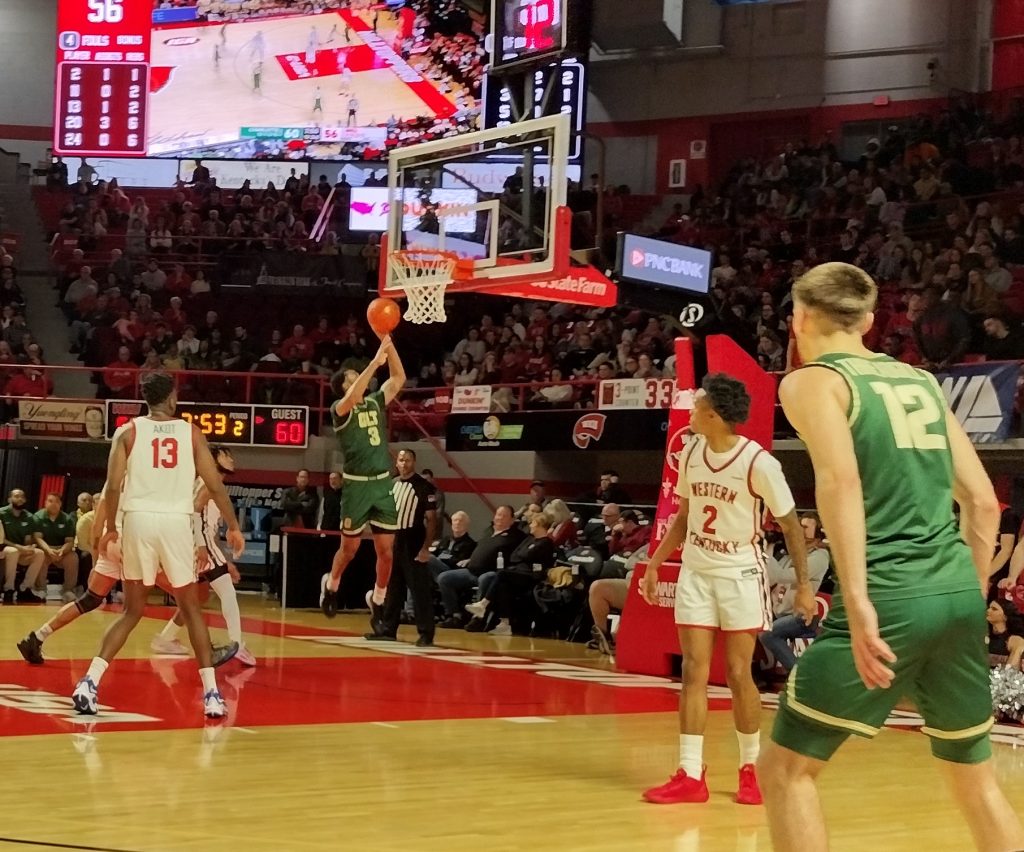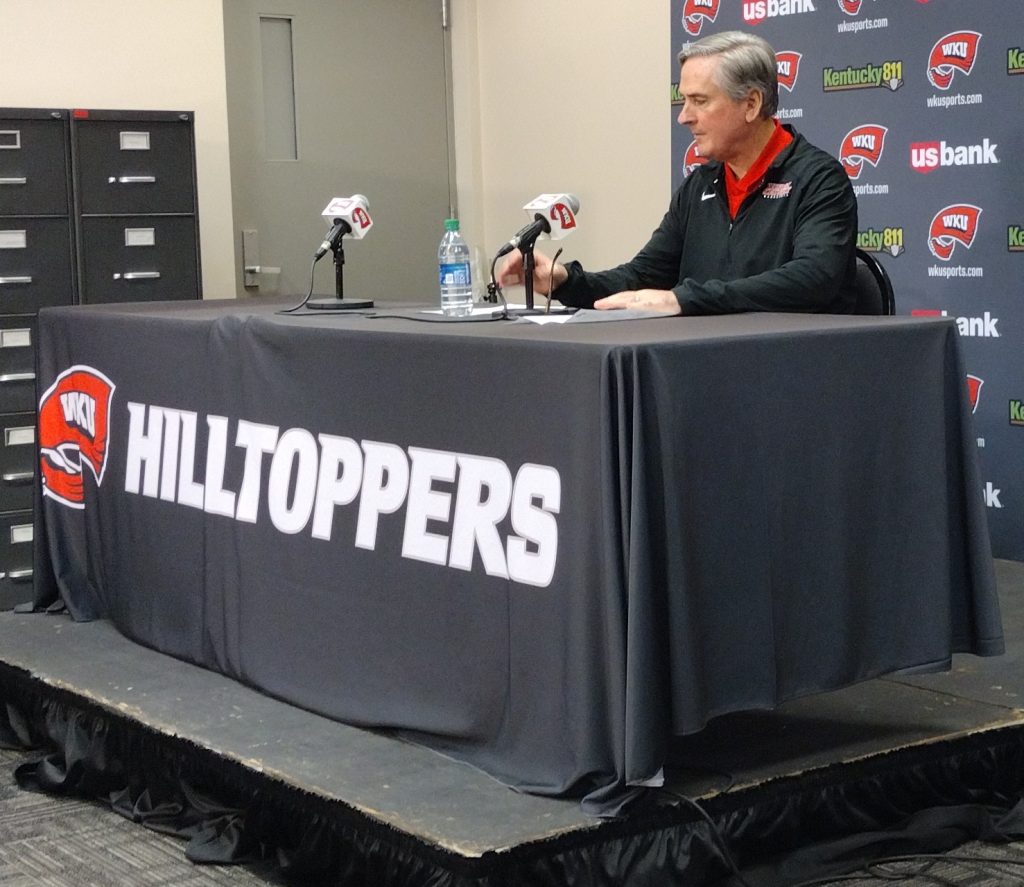 Western Kentucky hasn't been to the Men's NCAA Tournament since the 2012-13 season — forever, it seems like — and never as a member of Conference USA. University president Tim Caboni waxed poetic on the faded memory of WKU's Sweet Sixteen squad, way back in 1993 … long before any of the Hilltoppers' players were born.
Former WKU coach Ralph Willard's final squad, before he moved on to Pittsburgh and the Big East, got hot at the right time. College basketball teams are evaluated, by and large, by what they do over the month of March and, in a few cases, the first few days of April.
If you don't get to the NCAA Tournament, you're not giving yourself a fighting chance.
Steve Lutz took an underachieving team in a sleepy Texas town to unprecedented heights. He spent four years on Matt Painter's staff at Purdue University, and before that, was an assistant coach at Creighton University, in Omaha, Nebraska.
He's a 50-year-old basketball lifer, with a beautiful family and plenty of amibtion. He played junior college basketball before getting his bachelor's degree at Texas Lutheran University, in Seguin, and got his introduction to college coaching at Incarnate Word University, in his native San Antonio. Lutz also worked at Stephen F. Austin, a tradition-rich Southland Conference program in the Piney Woods of Texas, and SMU, the private school in Dallas.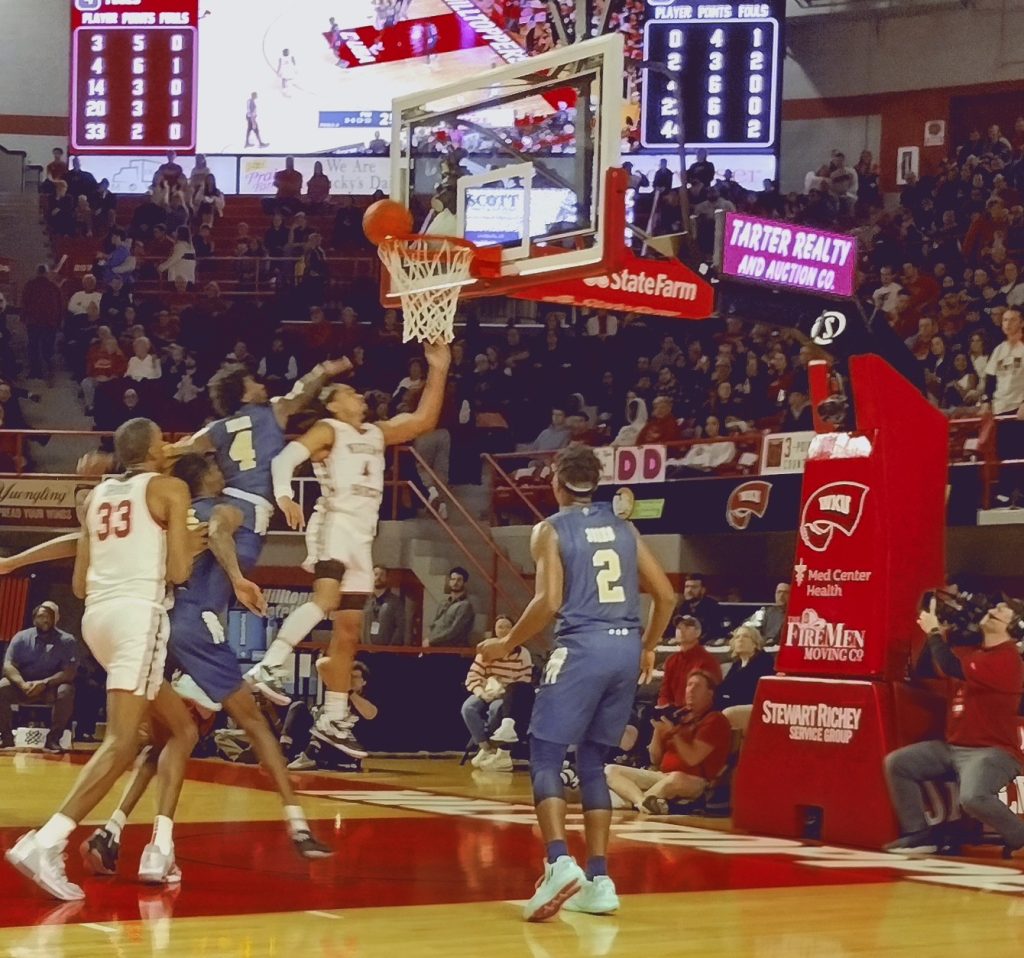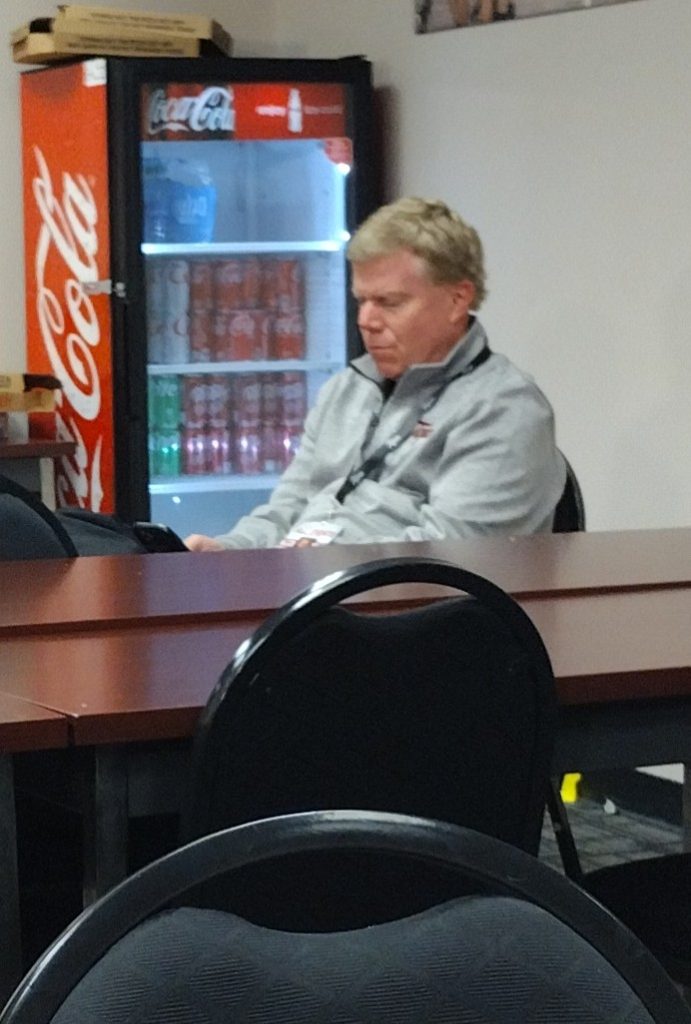 WKU athletic director Todd Stewart had indicated he was looking for someone with head coaching experience, and while Lutz's tenure in that role is limited, it has been wildly productive. Lutz took Texas A&M-Corpus Christi to back-to-back NCAA Tournaments while accumulating a 47-23 overall record.
Rick Stansbury won plenty of games at Western, but the Hilltoppers were never at their best in March.
Stansbury's 2020-21 WKU team won 21 games and reached the NIT quarterfinals. The Hilltoppers went a disappointing 19-13 last season, but Stansbury and his staff assembled a team with plenty of potential for the 2022-23 season. When rugged point guard Dayvion McKnight and 7-foot-5 shotblocking center Jamarion Sharp decided to return to WKU, after only a few days in the NCAA Transfer Portal, there was REASON for optimism.
And then, in November, Stansbury made a bold proclamation.
"I don't like this team, I LOVE this team," Stansbury told reporters at WKU's preseason press conference at E.A. Diddle Arena.
We all know what happened next.
The Hilltoppers got off to a solid start, before starting to struggle in December. They were anything but consistent. There was talent on the floor, but little in the way of chemistry. And then, on December 29 before the Tops' home game against Rice University, WKU officials announced that Rick Stansbury had been sidelined by an illness and that longtime assistant Phil Cunningham would be stepping in, in his absence.
Then it became a protracted issue.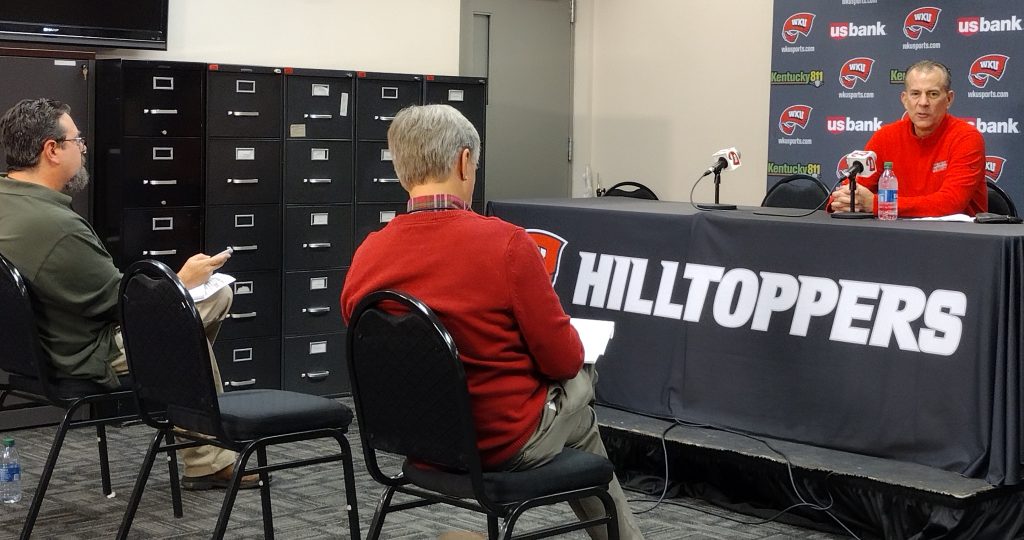 The Hilltoppers' season went due south, in a hurry. Cunningham was with Stansbury at Mississippi State before spending five years at the head coach at Troy University, in the Wiregrass region of Alabama, near the Florida panhandle. Cunningham was put in a bind because no one seemed to know when Rick Stansbury would be returning to the sidelines.
It turned out to be nine games. By that point, Phil Cunningham probably should have completed the season. The Hilltoppers got beat by 44 points at North Texas, in their regular-season finale. Western managed to win one game, in the Conference USA Tournament, by stopping UTEP 73-67 in Frisco, Texas.
The next night, reality set in as Florida Atlantic University pummeled the Tops 75-51, closing the door on a dismal 17-16 season.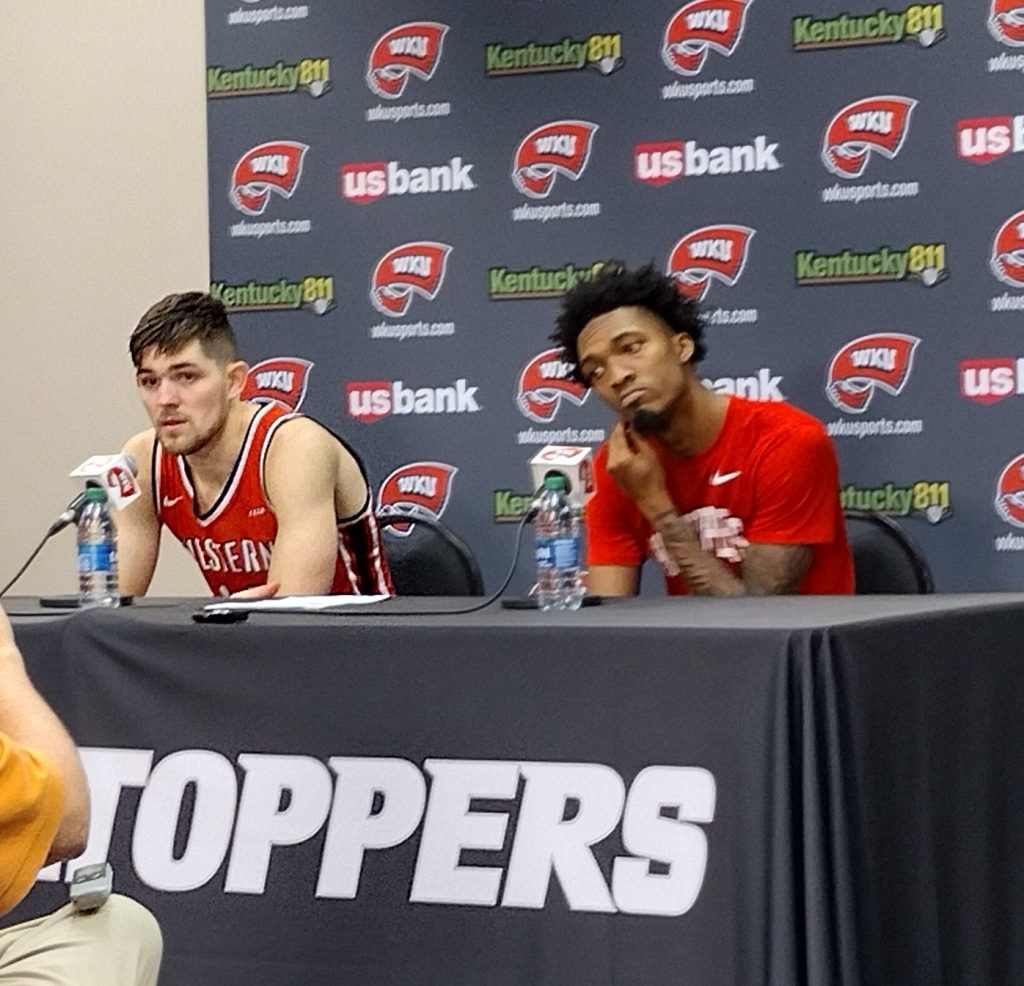 I hate to say this, because I've known Rick Stansbury since his days as an assistant coach at Mississippi State, but the whole at WKU over the last few months was much, much less than the sum of its parts. Western had 6-foot-11 centers launching 3-pointers as soon as they came into the game, and didn't give Dayvion McKnight the supporting cast he needed to take the Hilltoppers to the promised land.
That's probably why Todd Stewart turned to a disciplined yet engaging coach — Lutz definitely makes a good first impression — to right the ship skidding into the muddy banks of the Barren River.
"Steve Lutz is the right coach at the right time for Western Kentucky basketball," Stewart said.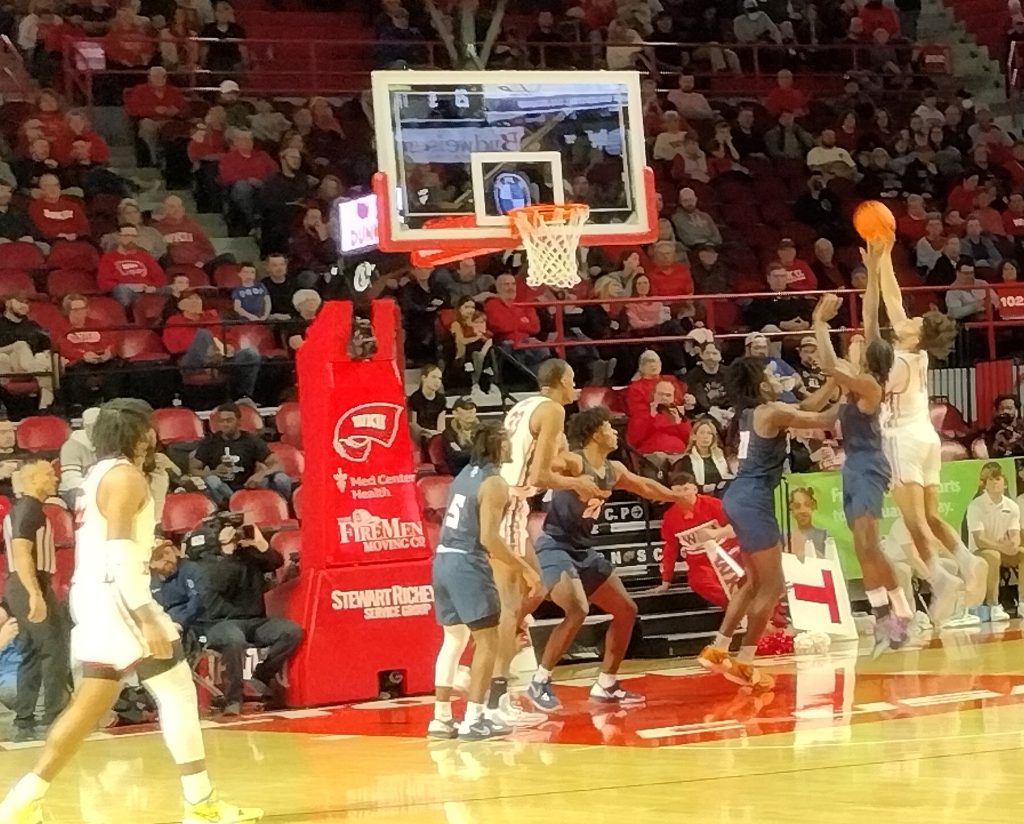 Dontaie Allen, the talented transfer from the University of Kentucky, was among the four or five WKU players on hand for Monday's press conference. I didn't get a chance to talk to Allen, but WKU's Elijah Hughey, a redshirt freshman from Dallas, seems to have been impressed.
"I think (Lutz) is a solid dude, a good coach," Hughey said.
Stewart and Lutz alike spoke about the current state of college basketball, what with the Transfer Portal and Name/Image/Likeness possibilities, at least for a handful of athletes. Lutz said his recruiting plan for WKU is a work in progress, but he's not going to limit himself. The transfer portal, JUCO players, anything …
"No one wins without good players," Lutz said. "That's the bottom line … Defensively, we're going to be aggressive. We're going to be unselfish, we're going to share the basketball.
"I don't come in, with any pre-conceived notions about what (the current WKU players) can and cannot do … People love basketball here. I'm like these players. I like to play berfore a packed house.
"I'm really excited about the opportunity."
Steve Lutz is off and running. And so far, so good.