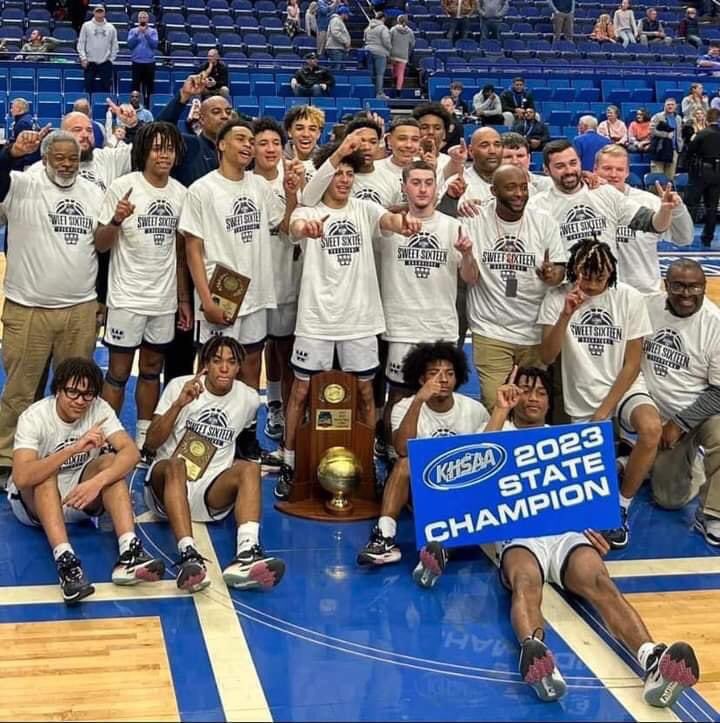 UNSELD's WCHS SQUAD STAYS TRUE TO FORM IN 64-60 VICTORY OVER GRC
LEXINGTON — For Warren Central High School, it was a tournament to remember. To savor. The Dragons have made it to the finish line.
One year after coming up just a tad short. Against the same team.
The stars aligned over the last few days, however, and Warren Central's boys basketball team fulfilled a promise they made to themselves one year earlier at Rupp Arena.
The Dragons weren't going to let George Rogers Clark 43, Warren Central 42 get the best of them.
Not even.
They weren't just happy to be there, but they were underdogs one year ago. They stunned Louisville's Male High School, in the final first-round game, claiming a 57-54 victory in overtime over the Bulldogs. They came back to Rupp Arena, the next night, and stopped Murray High School 54-48.
Basketball fans in the Bluegrass were starting to take notice of the Dragons.
George Rogers Clark played in the first semifinal game on the final day of the tournament, and the Cardinals needed TWO overtimes to eliminate Lincoln County, 57-54. William Unseld's underdog Dragons trotted onto the Rupp Arena floor and stopped Covington Catholic 61-58 in the second semifinal.
They certainly didn't trot OFF the court when that game was over.
They had to get some semblance of rest for a state championship game about three hours later.
Logistics count. In a defensive slugfest, George Rogers Clark slipped past the Dragons 43-42.
The Dragons thought about that game. A lot. In the hotel afterward. On the way back to Bowling Green. During summer workouts at Warren Central. During the holiday tournaments season before the calendar turned to 2023.
But no more.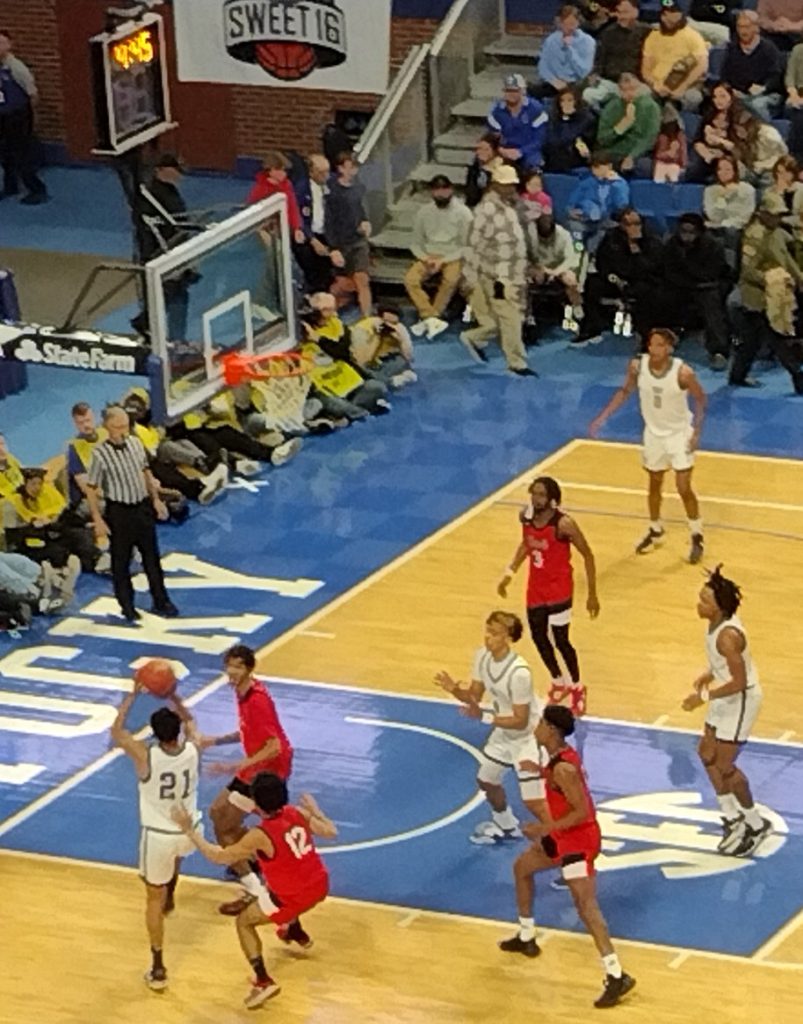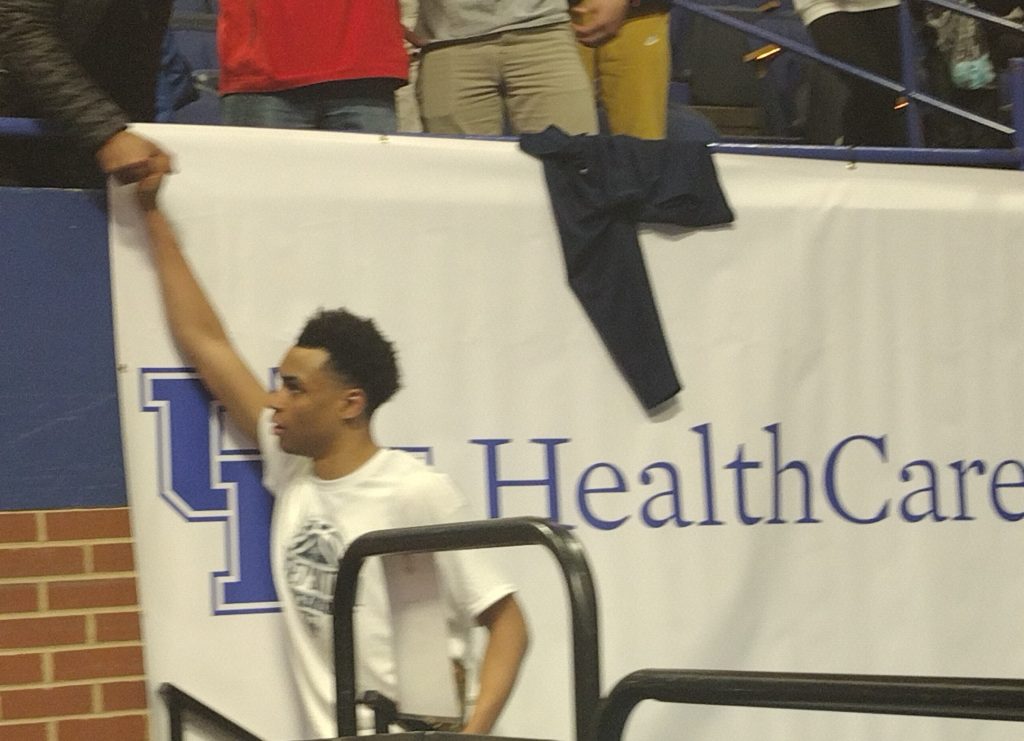 Warren Central turned the tables on GRC, and Unseld's squad withstood some torrid 3-point shooting from Jerone Morton and his Cardinals teammates, winning the gold ball championship trophy for the second time in school history.
Warren Central 64, George Rogers Clark 60.
WCHS junior swingman Kade Unseld, the son of the Dragons' head coach, hit two clutch free throws with 8.1 seconds left, putting GRC behind the eight-ball. After a hurried shot and a loose ball near mid-court, Iziyiah Villafuerte, the Dragons' heady, steady senior point guard, emerged with the ball and flung it into the sky.
WIth sheer jubiliation on his face.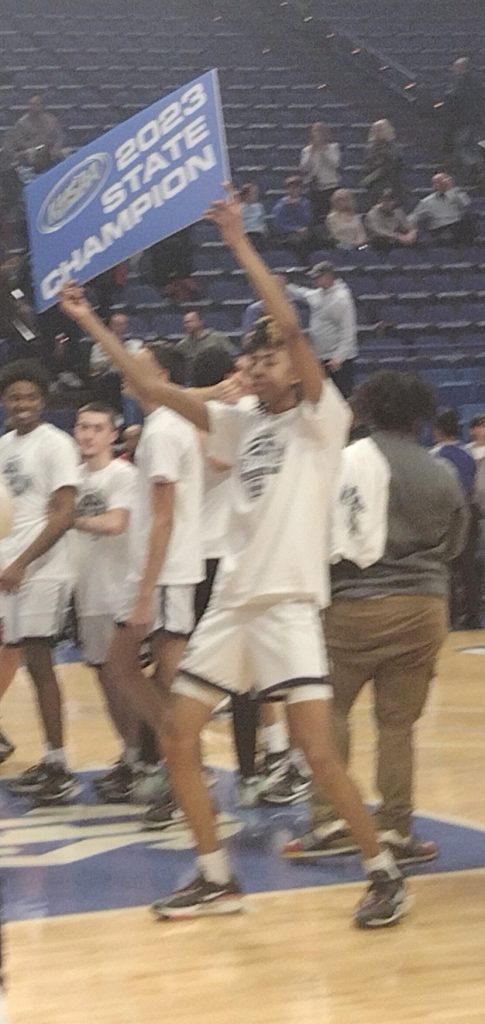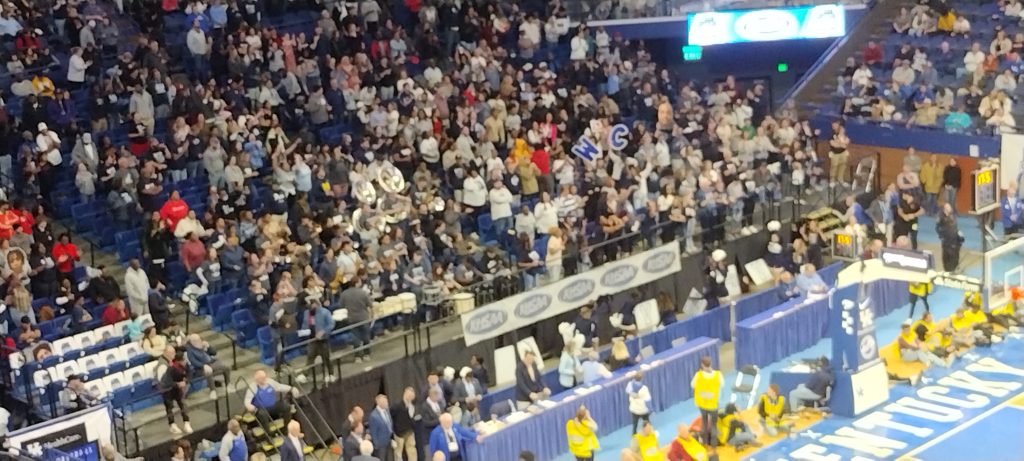 The Dragons' fans let loose. The Dragons' players ran toward the stands to embrace their loved ones. William Unseld, all 6-foot-8 of him, just stood there and watched from a distance. He's the guy who put all of this together. The players made it happen, but someone had to set the wheels in motion.
Warren Central had finished the 2022-23 season. With an amazing 36-1 record.
Kentucky hasn't had an undefeated state champion since now-defunct Brewers High School, in Marshall County, completed a 36-0 season with a 55-48 victory over Maysville at the Louisville Armory in 1948.
William Unseld understood the magnitude of it all.
"I'm just proud, of the kids, the way they hung in there, kept playing," he said.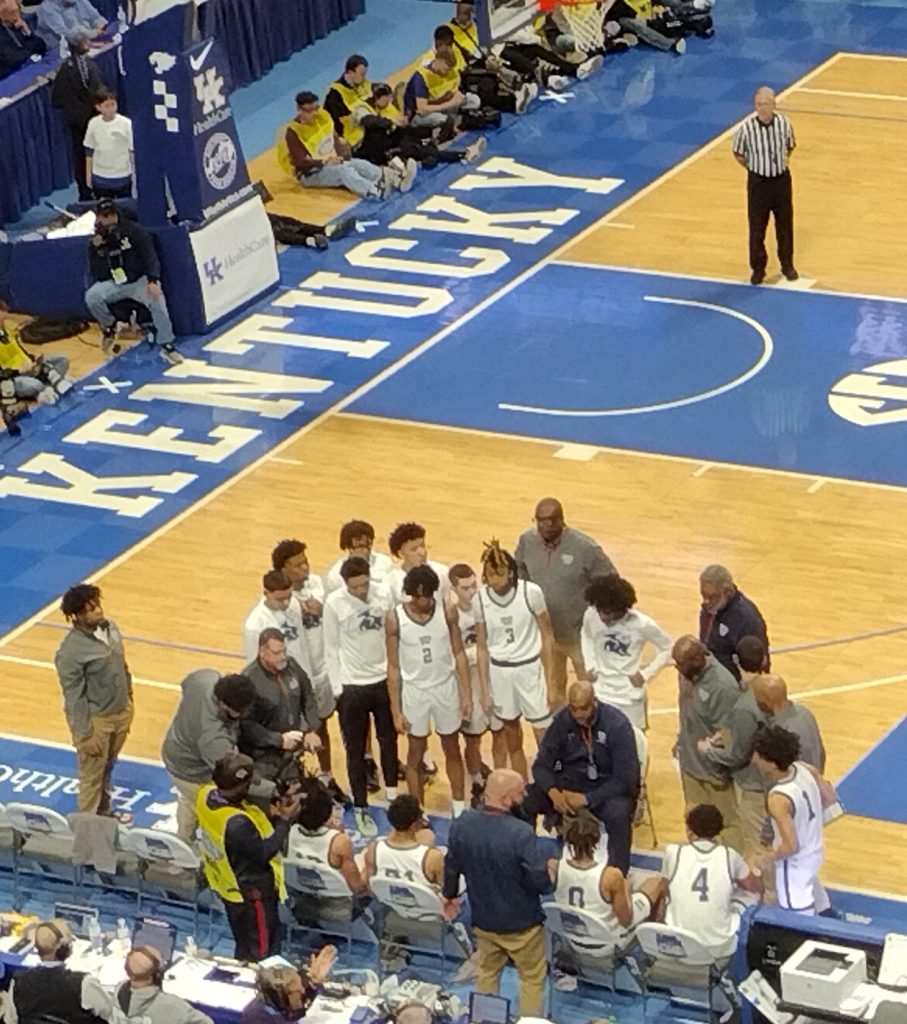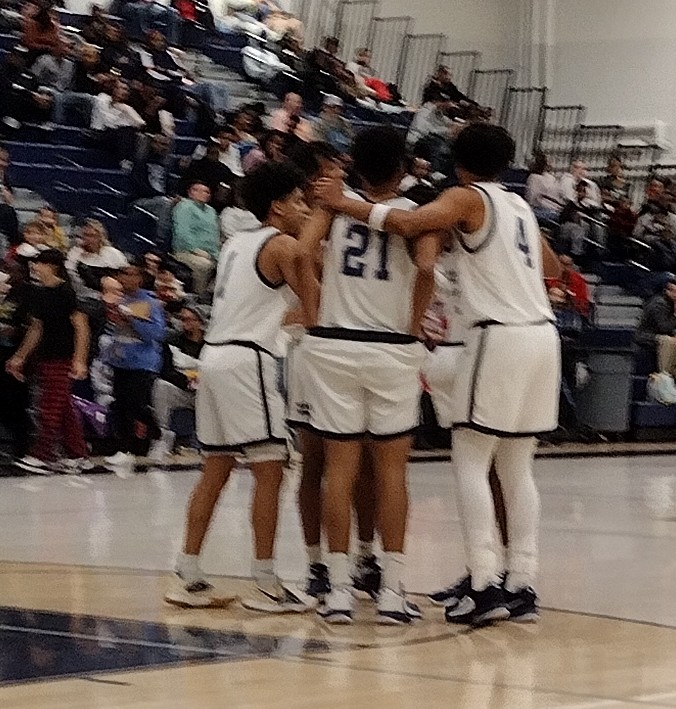 William Unseld was coaching middle school basketball when former WCHS coach Tim Riley led the Dragons to the only other state championship in school history.
in 2004.
Nineteen years later, the Dragons are back on top of the mountain. They seem to like the view.
It is, without a doubt, a special group.
Four WCHS seniors — Chappelle Whitney, Omari Glover, Izayiah Villafuerte and Damarion Walkup — returned to Rupp Arena on Wednesday, ready to turn the page on GRC 43, Warren Central 42. Especially Villafuerte, who split on a pair of free throws with 3.2 seconds left, in that gut-wrenching defeat, which could have sent the game into overtime.
The Dragons kept moving forward. Last year's championship game was in the back of their collective head, sure, but they didn't even know they'd get another shot at George Rogers Clark until the Cardinals turned back Lexington's Frederick Douglass High School, 51-44, in the second semifinal on Saturday afternoon.
GRC coach Josh Cook made note of that quick turnaround, in the postgame press conference, but he was careful not to use logistics as an excuse.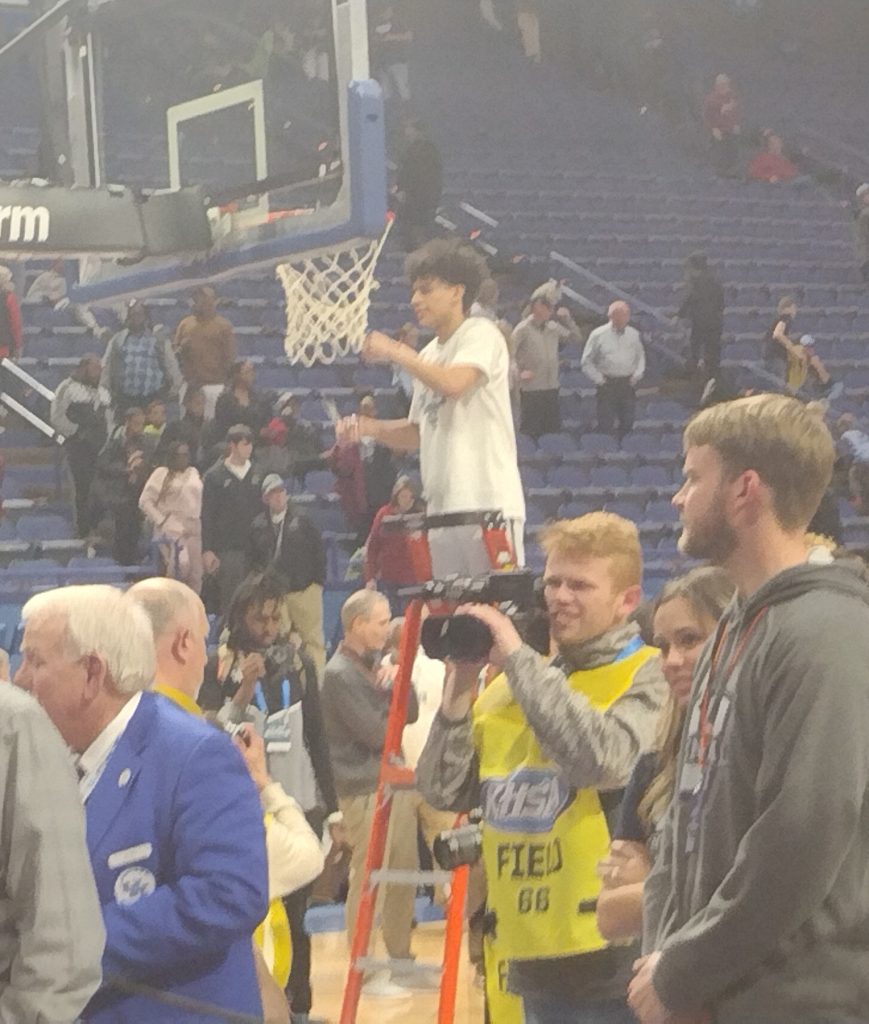 The Dragons certainly didn't, one year ago.
"We were gassed … We talked about, 'Play with your heart, not your legs, not your excuses,'" Cook said. "A couple of times, I wish the ball would have bounced our way. Maybe a call or two would have helped it swing in our favor. I think it defined our team, when you saw us get down and you saw a team that played with such a sense of urgency and fight."
That's all true.
But the Dragons answered every GRC challenge.
And the Cardinals fouled the wrong guy when they sent Kade Unseld to the free-throw line with 8.1 seconds left.
"I told them to get me the ball, during the timeout," Kade Unseld said. "I told them I was going to make the free throws … and I did."
Chappelle Whitney, the KHSAA 4th Region Player of the Year and the Sweet Sixteen MVP, showed emotion you seldom see during the postgame ceremony. It was Omari Glover, the Dragons' football/basketball star, who promised during the KHSAA 4th Region Tournament that the celebrations would have to wait.
"No emotion … until we get a state championship," Glover said softly that night at WKU's E.A. Diddle Arena.
You saw plenty of emotion from the Dragons on Saturday night on the Rupp Arena floor.
Glover, Kade Unseld and Damarion Walkup all scored 17 points in the victory over Cook's dogged GRC squad. The Dragons dominated their four Sweet Sixteen opponents on the boards. They finished with a modest, by comparison, 25-19 edge over GRC in that department on Saturday night.
For the tournament, Warren Central accumulated 118 rebounds, while its four opponents — Pulaski County, Ashland Blazer, Woodford County and GRC — had a total of 62.
That's nearly a 2-to-1 advantage.
That's one way to win basketball games, as William Unseld will tell you.
"We really put a premium on rebounding," he said.
Kade Unseld and Chappelle Whitney couldn't wait to get back to the team hotel, to savor the victory in style, with their teammates, their classmates, their parents and families, their friends, and everyone else who sports Warren Central's dark blue colors.
"I don't believe it really happened yet," Whitney said. "Not yet … not until I got back my hotel room, and talk to IV (Villafuerte) and say like:
"'We're state champs, bro.' Then we'll celebrate, probably all night. I'm not going to sleep tonight."
William Unseld let out a big laugh with that one.
Kade Unseld pointed out that the Dragons took a measured approach to get another shot at glory.
"Every day, it's been about business," he said. "We talked about that game all the time, between ourselves … tonight, we're partying."
They'll do some more of it, when they get back to Bowling Green.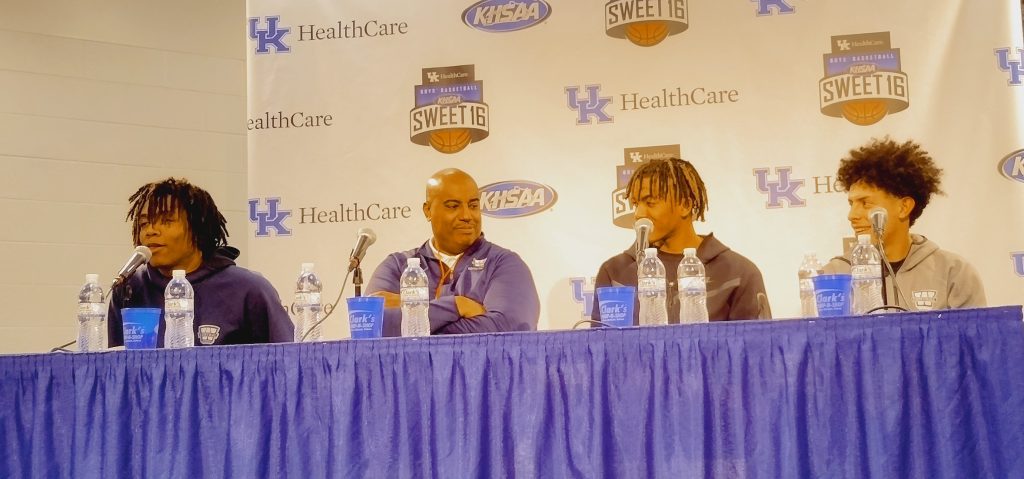 Warren Central is your Kentucky state champion.
As the Rupp Arena voiceover says, before the championship game begins, "120 counties, 64 districts … this is basketball in Kentucky."
The Dragons made it happen. In style.