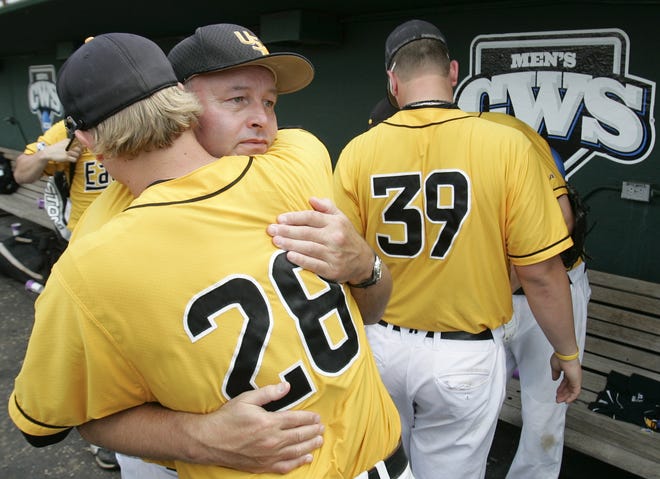 COLORFUL COACH TOOK SOUTHERN MISS TO 2009 COLLEGE WORLD SERIES
Baseball's place in Americana has faded over the last two or three decades, the pace of the game foreign to recent generations, but we already know which sport lends itself to literary pursuits, to creative minds, to the magic of movies.
Compelling dramas. Say, "Bang The Drum Slowly." Poignant period pieces. "The Natural," maybe "61*." And, finally, side-splitting movies in the spirit of "Bull Durham," "Mr. Baseball" and, of course, "Major League."
So where do we start, with the Corky Palmer Story …
So many possibilities …
"Sweetheart, Get Me Rewrite!"
Sorry about the mixed metaphors, but there will be only one Carlton Devan "Corky" Palmer. They broke the mold with this guy. Colorful, but driven. Personable, yet principled. Palmer, who died last week at the age of 68, will be remembered as a Mississippi original, the kind of guy you'd wanna grab a burger and a beer with.
At the ballpark, natch.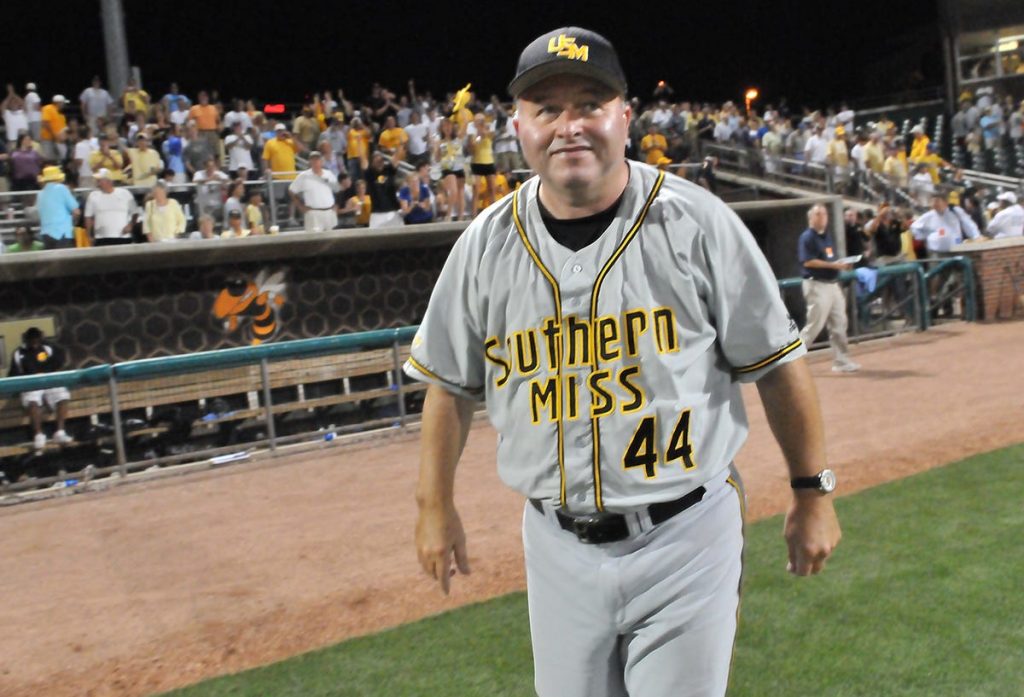 Palmer was the Southern Miss baseball coach for 12 successful seasons, including the Golden Eagles' only trip to the College World Series in school history.
Scott Berry, Palmer's successor and an assistant head coach during the magical '09 season, understood what it meant to the school and its athletics community.
That breakthrough happened to coincide with Palmer's retirement from coaching, although it was no coincidence that Southern Miss got hot after Palmer announced his plans roughly midway through the 2009 season.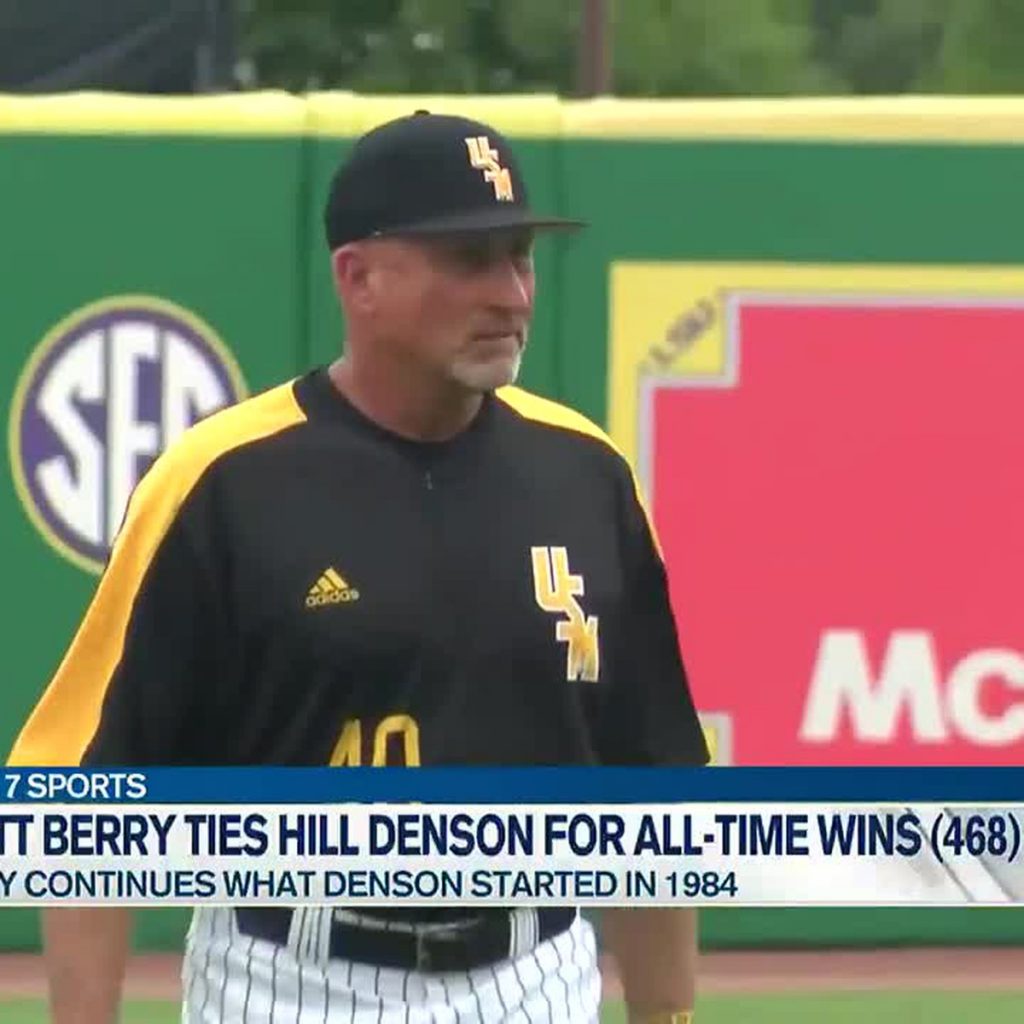 "Coach Palmer demanded respect, and he got it," Berry said.
He got it because of his homespun, self-deprecating wit, his competitive nature, and ultimately his decency and kindness in such a demanding profession.
"Corky Palmer was a very likeable guy," Ole Miss coach Mike Bianco said.
You might have heard about the Mike Bianco Story.
Longtime Rebels coach endures some tough postseason defeats, after two decades and change at Ole Miss, and leads team to a College World Series championship, one year after Mississippi State did the same thing.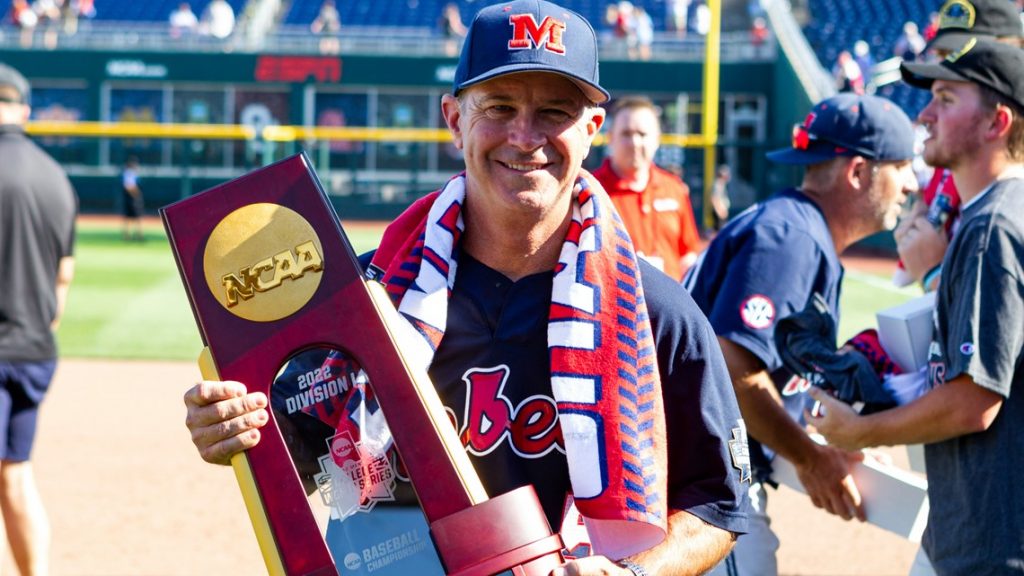 Mississippi has become the promised land in college baseball, with Ole Miss, Mississippi State and Southern Miss established as three of the nation's premier programs. Delta State is a longtime power in NCAA Division II play. There's several top-flight junior-college programs and high school baseball in the Magnolia State is improving all the time.
Plus, there's the Mississippi Braves, a Double-A squad at Trustmark Park in Pearl and the Biloxi Shuckers, a Class A franchise on the picturesque Mississippi Gulf Coast.
Corky Palmer is one of those unsung heroes in the Story of Baseball in Mississippi, and the actor who would play his character in Palmer's life story would have to be a little short, squat and, frankly, bow-legged, the effects of a long career behind the plate, and then in the dugout.
He was a sports scribbler's friend, too, the kind of guy who seemed to go out of his way to be accomodating and helpful.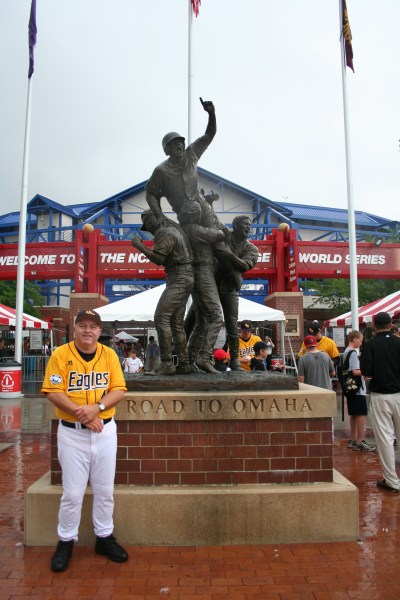 Whoever was in charge of Central Casting for the "Corky Palmer Story" would have to have a keen eye for the understated, the underdog, an everyman with seemingly everyone behind him.
Palmer inspired that sort of loyalty. By just being himself.
Hill Denson, Palmer's predecessor as the Southern Miss baseball coach, is perhaps as qualified as anyone to understand what made Corky Palmer, well, Corky Palmer.
Tbe Golden Eagles have had four head baseball coaches over the last six-plus decades — the late Pete Taylor (1959-83), Hill Denson (1984-97), Palmer (1998-2009) and the present coach, Scott Berry. They're a familiar face in NCAA Tournament play, a top-flight Conference USA program on its way to the Sun Belt Conference for the 2022-23 school year.
Let the 78-year-old Denson, who spent 19 years as the head coach at NCAA DIvision III Belhaven University, AFTER his successful run at Southern Miss, paint the quintessential Corky Palmer picture.
"Corky was a good one," Denson said with a soft laugh. "We all had these little 'Corky-isms,' funny stories and funny lines … so many of them. He just put everybody at ease.
"Corky was a big Yankees fan. He kind of walked like Yogi Berra did, too. Same kind of body language. He'd come to lunch or something, when he was a high school coach at Columbia, and he'd say something like, 'Did you see that home run that (Mickey) Mantle hit, the other night … He hit it right off that Fourcade …"
(Take a bow, John Fourcade.)
"You'd say, 'the Fourcade?' And Corky would go, 'that white-lookin' stuff, like a fence, at the top of Yankee Stadium …"
Hill Denson couldn't let that one go, however, and if you knew Corky Palmer, you wouldn't want to, either.
"We'd laugh, and say, 'Corky, it's 'facade,'" Denson said. "And he'd say, 'Well, it was sumthin' like that … ' That's what we'd call a 'Corky-ism.'"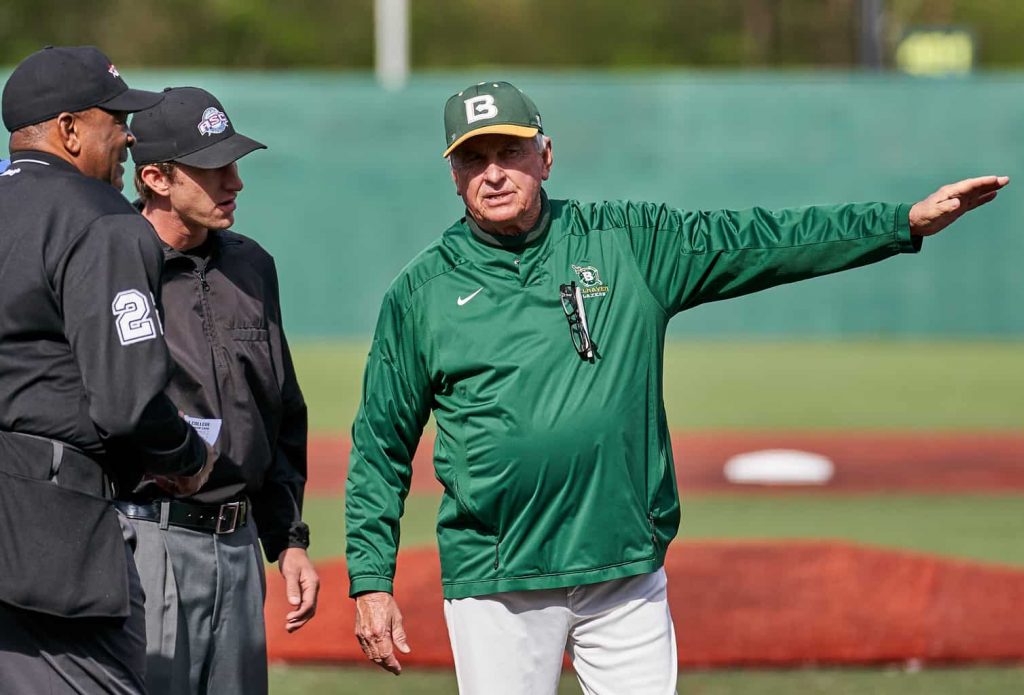 Scott Berry and Mike Bianco heard a few of 'em over the years themselves. Likewise, his players. And Golden Eagles fans. Palmer was a good dude, a baseball lifer who retired in his mid-50s because of health concerns and confidence in Berry to keep the Golden Eagles' tradition intact.
Palmer compiled an impressive 458-281 record in 12 memorable seasons at Southern Miss, taking the Golden Eagles to eight consecutive NCAA Tournaments including the memorable run to the College World Series in 2009.
"Corky brought people together," Berry said. "We were as close as brothers could be. I was an assistant coach with him, for nine years at Southern Miss, and six more at Meridian (Community College). He was destined to be a coach, from the very beginning.
"It was in his makeup."
Mike Bianco matched wits with Palmer several times over the years, including a handful of NCAA Tournament games, and Bianco's Rebels swept Berry's nationally ranked Southern Miss squad in NCAA super regional play just a couple months ago.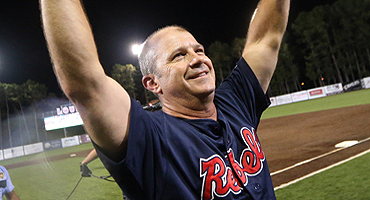 "We kind of have a unique relationship, the baseball coaches in Mississippi," Bianco said. "Corky was like a father to Scott Berry. Corky got to Southern Miss a few years before I got to Ole Miss, and it was competitive, sure.
"Corky was the kind of guy who could always keep things in perspective."
His friends in the coaching community were devastated to learn that Palmer suffered a stroke a couple years ago. Palmer's wife, Debbie, is a registered nurse and Palmer spent his last few months at a nursing home in Collins, Mississippi. Friends, neighbors and relatives will be traveling to Hattiesburg for Corky Palmer's visitation at the Hulett-Winstead Funeral Home on Sunday evening before Monday afternoon's services at Providence Baptist Church.
You get the feeling mourners will share a few "Corky-isms" while sharing memories with Palmer over the years.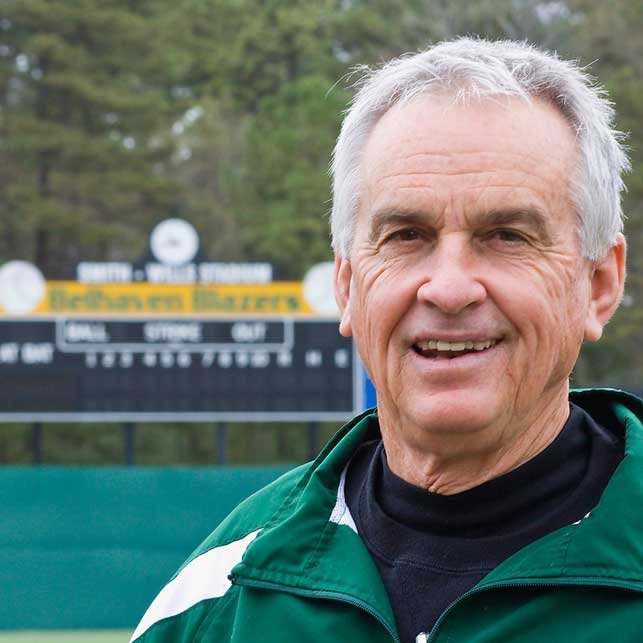 "Corky didn't have a lot of interests outside baseball, his family, his school," Hill Denson said in a fond tone. "One year, during deer season, a few of us coaches got Corky to go on a hunting trip. We were about 300, 400 yards apart, across 'the holla' …
"It was real quiet, in the woods. As soon as I settled into my stand, I heard a 'BOOM!' Corky got me on the walkie-talkie and said, 'I think I killed one,' so I told him I'd come on over.
"Corky looks at me, and then he looks at the deer. He said, 'Now what are we gonna do?' And I told him, 'We're gonna take it up the hill, to the truck.'
"Corky starts hobbling up the hill, and he only made it 10, 20 feet. His body just wouldn't cooperate. He wound up needing knee surgery …"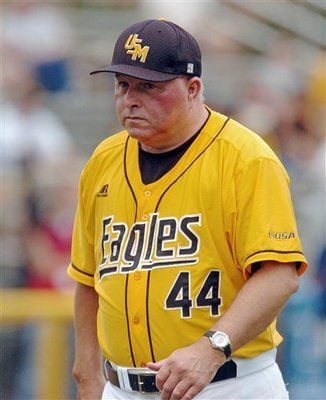 Corky Palmer would have that knee surgery, and he'd have his baseball team ready to play a couple months later, when the mild Mississippi winter in the Pine Belt would give way to the promise of springtime at the ballpark.
God bless, Corky. You will be missed.