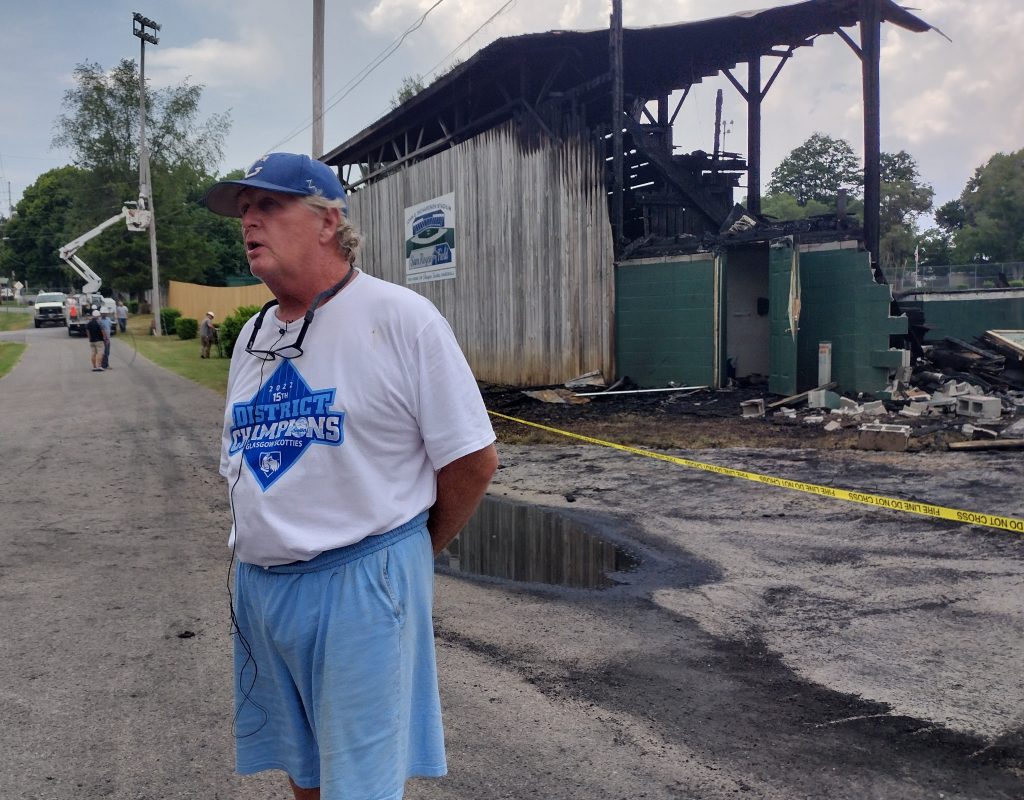 SCOTTIES' LONGTIME BASEBALL COACH COMMITTED TO PARK'S RETURN FOR 2023 SEASON
GLASGOW — It had been a long night, for veteran Glasgow High School baseball coach Sam Royse, and even a longer morning Thursday.
The Scotties' treasured John E. Richardson Stadium had been reduced to rubble, left in ruins by an early morning fire the Glasgow Fire Department attributed to a faulty electrical system. Foul play is not suspected, but it gnawed at Royse just the same.
Royse started coming to the baseball park when he was 7, maybe 8 years old, as a kid growing up in Glasgow, and he became the Scotties' head baseball coach in 1985.
That's 37 years ago.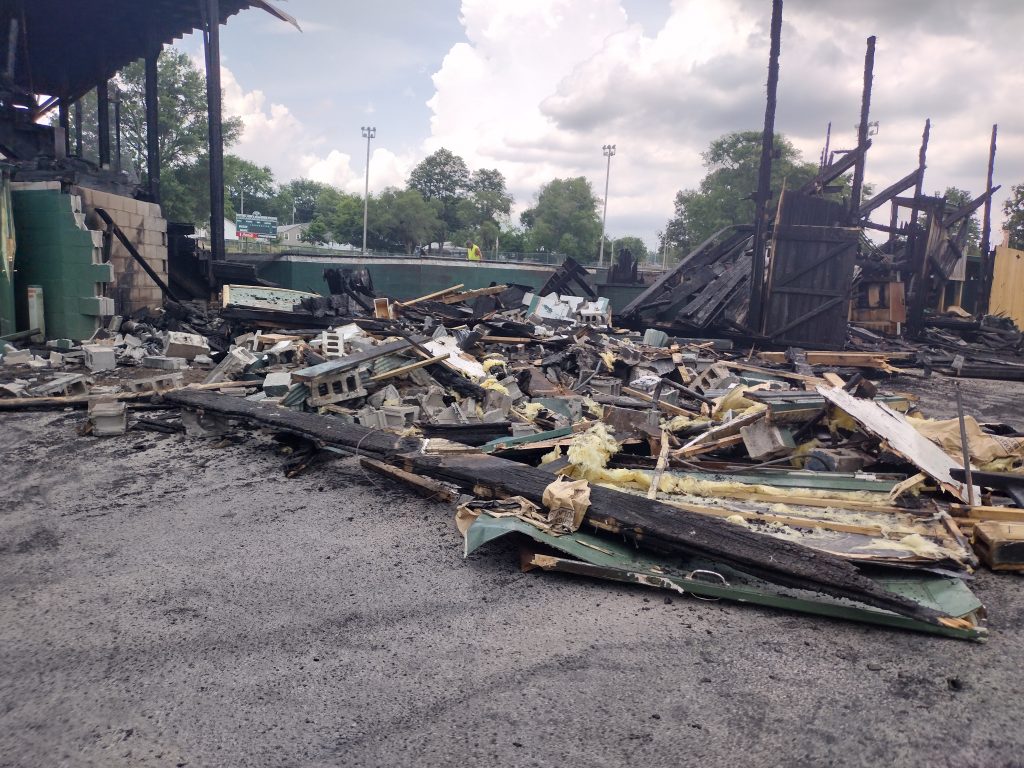 That's a lifetime of hard work, dedication and enthusiasm, the kinds of attributes Royse has brought to the table in Glasgow, not only with Scotties athletics but summertime baseball, all-star games and the like.
Royse had to compose himself two or three times while talking to WBKO-TV's Brett Alper and myself on Thursday afternoon. He told us about his connection to the park, what it meant to Glasgow High School and its baseball community, and what it represents for an uncertain future.
Sam Royse was crestfallen on Thursday afternoon.
He'd been fielding text messages from players, parents, former players and coaches all morning. He watched Glasgow firefighters fight the blaze in the middle of the night, actually preserving some of the grandstand along the third-base line.
The stadium is actually on city property, part of the Gorin Park complex on East Main Street, not far from the Cumberland Parkway exit and about 1.5 miles from Glasgow High School itself.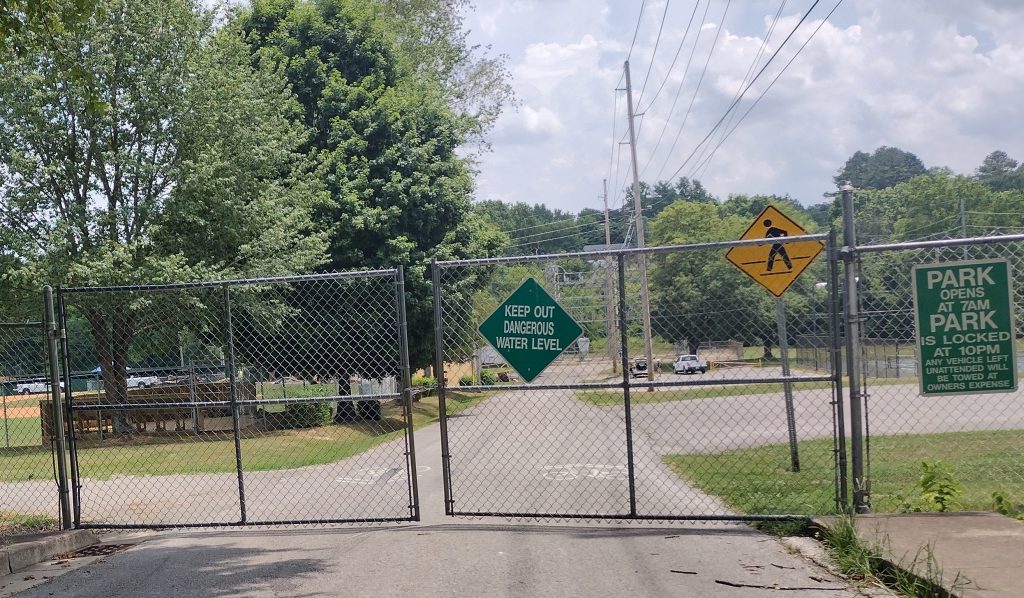 This place could stand on its own.
Until fate stepped in early Thursday morning, sometime after 1 a.m., as Royse recalled a few hours later.
Nothing good ever happens after midnight, the saying goes, so when Royse awakened to answer his cell phone, he knew something was amiss.
Turns out, he was right.
"Someone in the neighborhood here called 911. One of the deputies from the (Barren County) Sheriff's Office was able to reach me," Royse said in a somber tone. "I live about five minutes from here, and I got here as quickly as I could.
"There were 10, maybe 12 firefighters, already here. They had it under control. The Glasgow Fire Department, they were big league. They were rotating firefighters in and out, they all knew what their role was in the operation. This is a special place, and they understood that, too."
Royse is arguably the man who built Richardson Stadium, which in recent years has been known as Sam Royse Field at John E. Richardson Stadium. The structure was built in 1957, and refurbished a couple times in the early '90s, but in large part, it's stayed the same, since Royse was in knee pants, taking in a Glasgow game with his family and dreaming of playing for the Scotties some day.
And Sam Royse made that dream a reality.
Royse, an undersized but hard-nosed catcher, played for the Scotties before one year at Lurleen Wallace Community College in Andalusia, Alabama, and then three more seasons with Troy State University, now known as Troy University, in Southeast Alabama.
Not far from the Florida state line.
He came back to Glasgow, after graduating from Troy State, and became the Scotties' head baseball coach in 1985. He's been an institution here, ever since.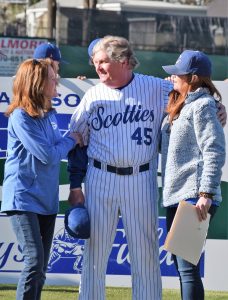 Sam Royse is approaching 800 career victories with the Scotties, and he has no plans on slowing down any time soon. He knows what the quaint ol' stadium means to the community, to the Glasgow Little Leaguers and their parents, to the baseball community in South Central Kentucky at large.
It's going to be a major undertaking, replacing the fallen stadium, and Glasgow Parks and Recreation director Eddie Furlong said it's a "total loss," outside the field itself, and maybe the dugouts. The fire started in the concession stand area, and before long engulfed the entire facility.
Putting it back up is going to be a joint effort between Glasgow city officials, the Glasgow Independent School District, Scotties athletics administrators and others, and that's going to be a gradual process. It's possible the Scotties will have to play their home games elsewhere for a while.
In many ways, though, Richardson Stadium endures. Sam Royse will be the first guy to tell you that.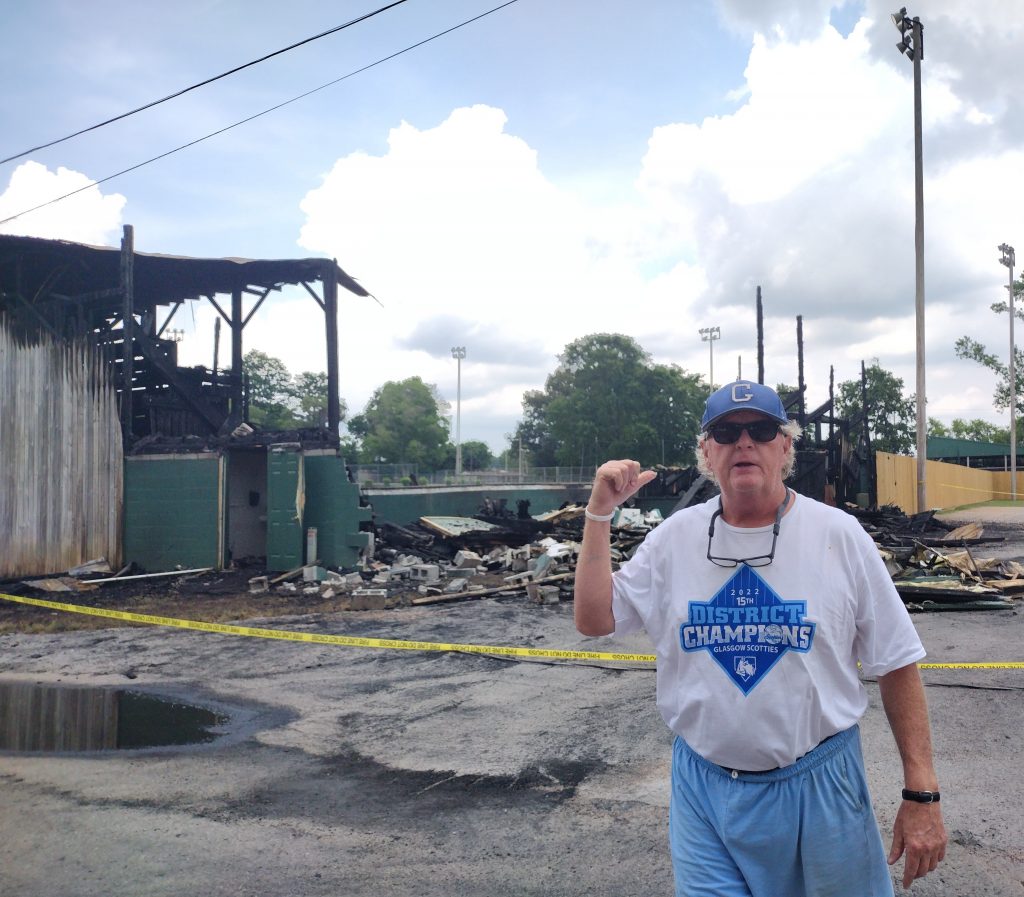 "I've heard from a lot of former players, coaches, parents," Royse said. "Eventually, all that's left here (with the rubble) will have to come down. But I told some of my players, 'Not everything was lost in the fire.'
"The memories, the moments, they're still going to be here."
Eddie Furlong said Glasgow city officials will map out a game plan and go from there. There's a sentimental side to the task at hand, but there will have to be a practical one, too. The park looked like something out of the Geena Davis movie, "A League Of Their Own," a movie from about 30 years ago that told the story of women's professional baseball during World War II and immediately afterward.
"We're going to have to work through the process," Furlong said. "Coach Royse, myself, city officials, school (district) officials, we'll get it figured out."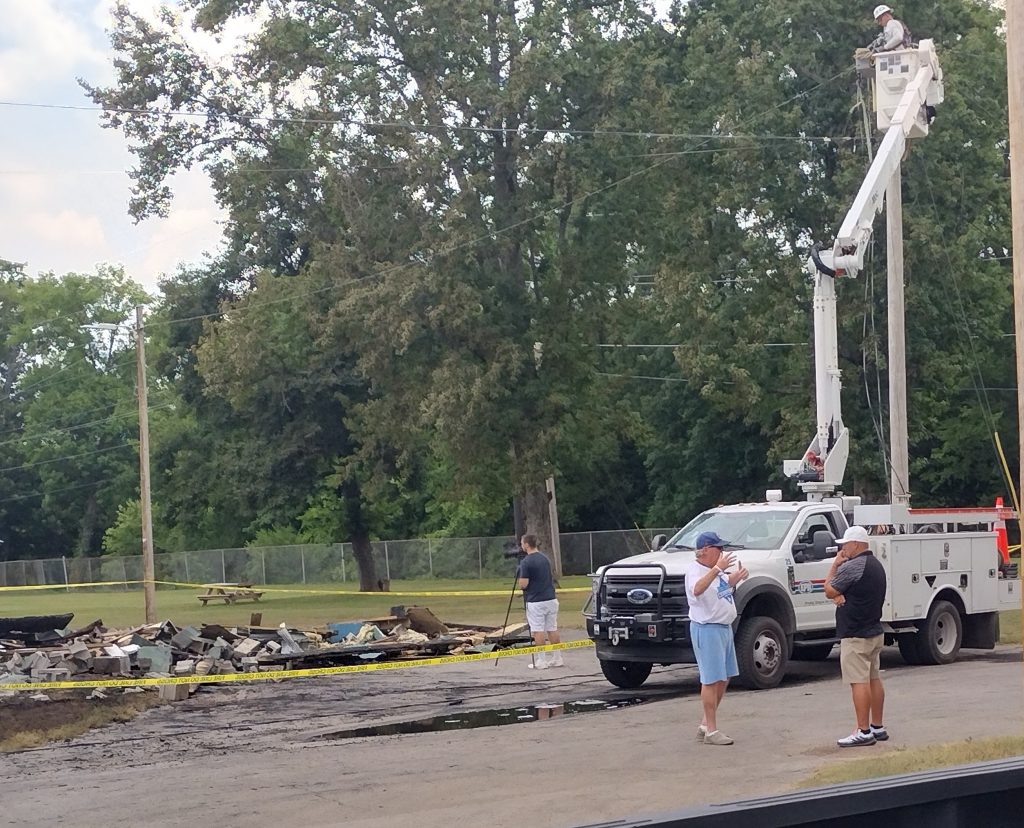 Royse remembered his childhood, when Richardson Stadium was known as "The Big Park," next to a smaller one naturally dubbed "The Little Park." Before long, he became enamored with the place, in large part because he'd become a baseball lifer, a kid at heart and a mentor to so many.
"That's my first memory here," Royse said. "Coming here as a kid. The Big Park and the Little Park. We thought it was the greatest place in the world, to play baseball. We've had kids from Glasgow go on to play major college baseball, professional baseball, even the Major Leagues. I started coming to Scotties games, when I was 7 or 8, and in the summer, American Legion baseball. We had big softball tournaments here.
"The park itself, it's a little quirky. Yeah, it is. That's a big part of its charm."
Royse and a couple of his managers measured the distance from home plate to the fence in the right-field corner, and it was a mere 287 feet. Less than the length of a football field. Of course, there was a 26-foot fence, in that part of the park, to give it some identity.
"You've got to hit it, really hit it, to get it out of here," Royse said with a sigh, perhaps realizing he was still speaking of the place in the present tense.
WBKO's Brett Alper and I asked Royse about his most memorable games, and moments, at the facility, and two immediately came to mind.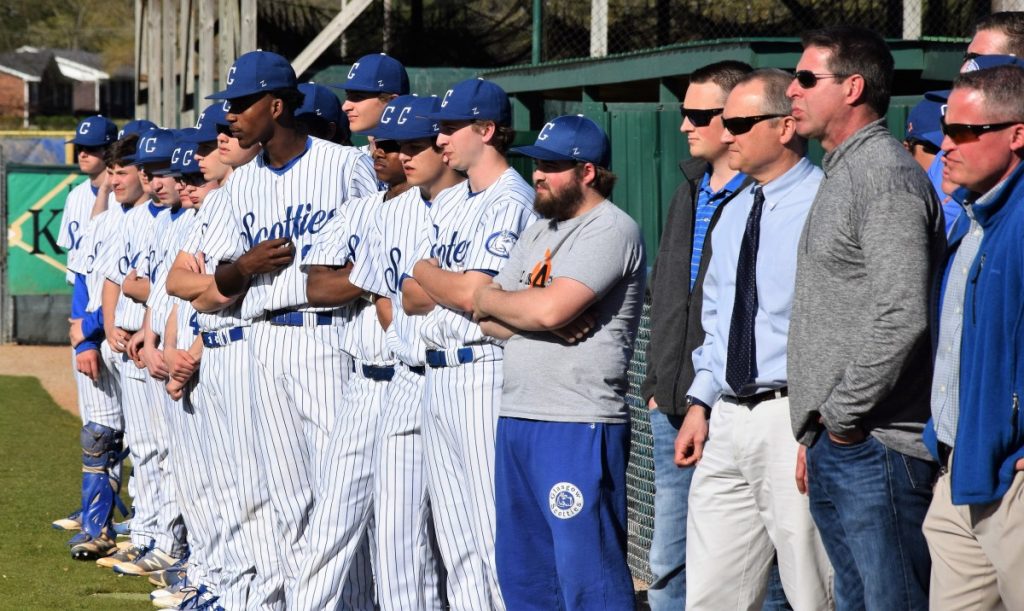 One of them was 25 years ago, a KHSAA sectional tournament that determined a berth in the four-team state tournament.
Glasgow High School was playing host to Owensboro Apollo High School, Henderson County High School and Reidland High School, a small school outside Paducah that has since been consolidated into McCracken County High School.
The Scotties knocked off Apollo, and then Reidland, to go to the state tournament.
A few years earlier, in 1990, Glasgow and rival Allen County-Scottsville played in a 14-inning game, for a KHSAA District championship, in which the homestanding Scotties finally prevailed.
Glasgow Fire Chief Joey Rock told WBKO's Brett Alper that he "hate(s) it for (Royse), and all the people of Glasgow, because it's a legacy. It's a landmark."
I have family in Glasgow, on my mother's side, and I remember trips to Glasgow when I was a kid, not far from my grandparents' home in Cheatham County, Tennessee.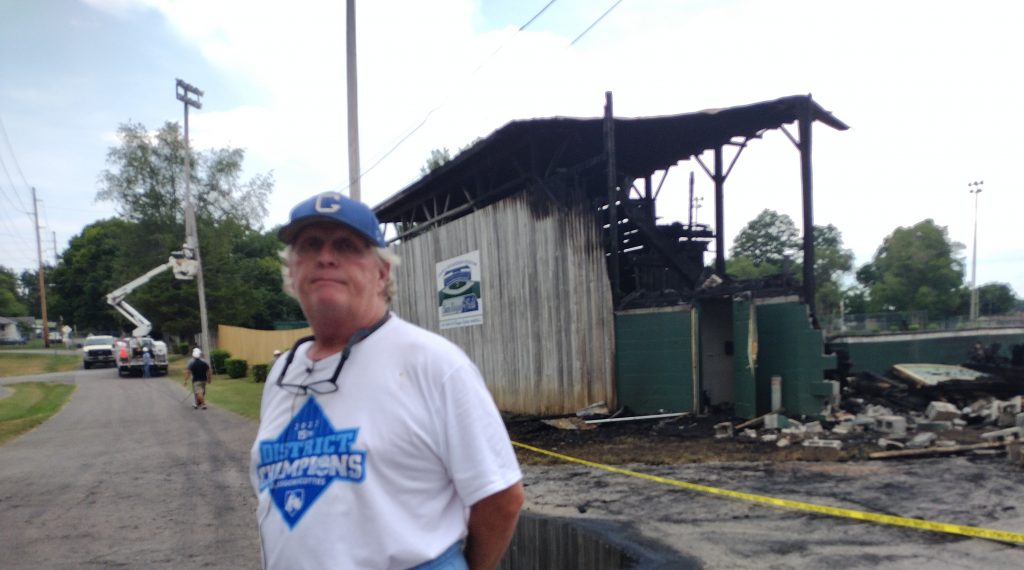 It's a friendly town, tight-knit to be sure, and at some point, I suspect that before too long, they'll be playing baseball at "The Big Park," or John E. Richardson Stadium, or Sam Royse Field at John E. Richardson Stadium, or whatever name awaits the creation of new digs for the Scotties and the Glasgow baseball community.
And Sam's an optimistic guy, as you might imagine, even if it took a little effort on a gloomy Thursday afternoon at Gorin Park.
"I feel confident, that we're going to rebuild," Royse said, "and we'll have baseball here, next spring … I'm holding on, to that notion, that we'll be playing here in March (2023). It's one day at a time right now."
Royse would have talked about the place all afternoon, if Alper and I would have asked him to. Now he's got another project, another goal to pursue.
He's ready to go to work.