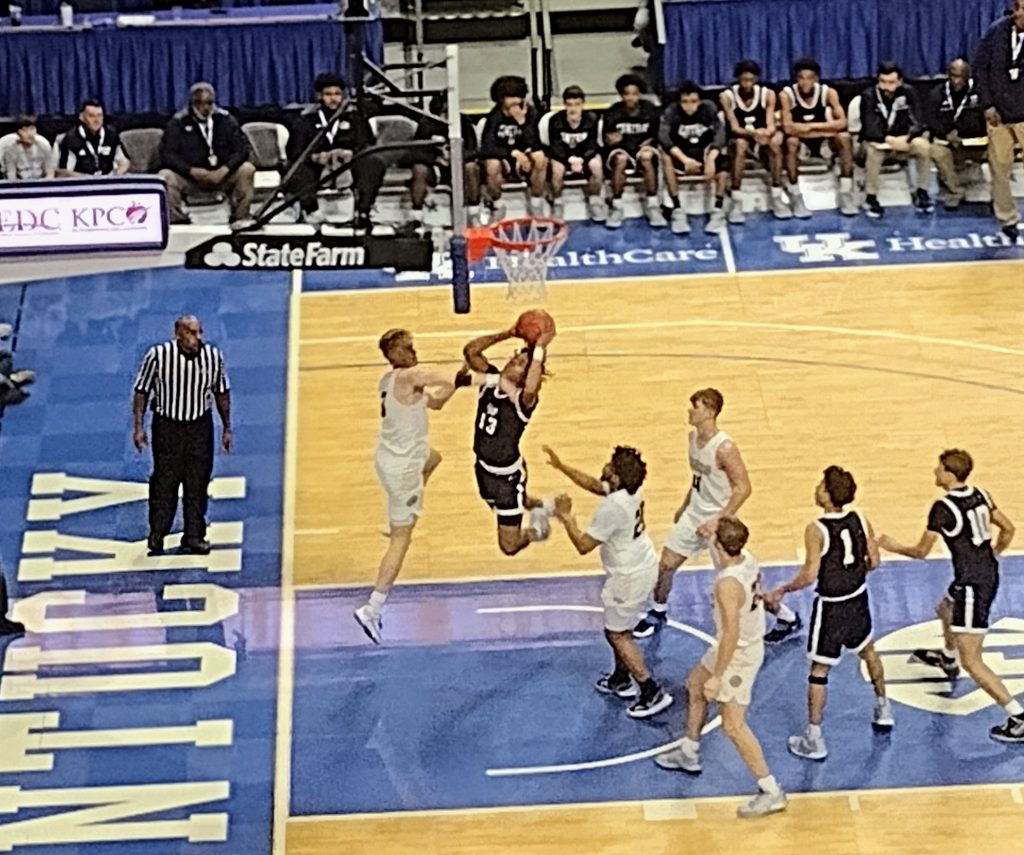 LEXINGTON — It was by no means a masterpiece, but the Warren Central High School boys basketball team will take it.
Boy, will they ever.
The Dragons trailed Murray High School for most of their KHSAA Sweet 16 quarterfinal matchup on Friday night, but they found the defensive resolve in the second half to turn back the Tigers 54-48 at Rupp Arena.
It was a half-court, every possession counts kind of contest, like most of the 12 games over the course of the first three days of the tournament. The Dragons, who improved to 28-3 on the season, didn't grab their first lead until the opening moments of the fourth quarter, when sophomore swingman Kade Unseld drilled a 3-point field goal from the right corner.
After that, Warren Central wouldn't be denied. They extended their impressive winning streak to 16 games.
The Dragons will square off with Covington Catholic, a 59-57 winner over Lyon County earlier Friday night, in the KHSAA Sweet Sixteen semifinals at approximately 12:30 p.m. CDT on Saturday. Logistics becomes a big concern for veteran WCHS coach William Unseld, because the Dragons have to win three games in just over 24 hours, including two on Saturday to claim the second state championship in school history.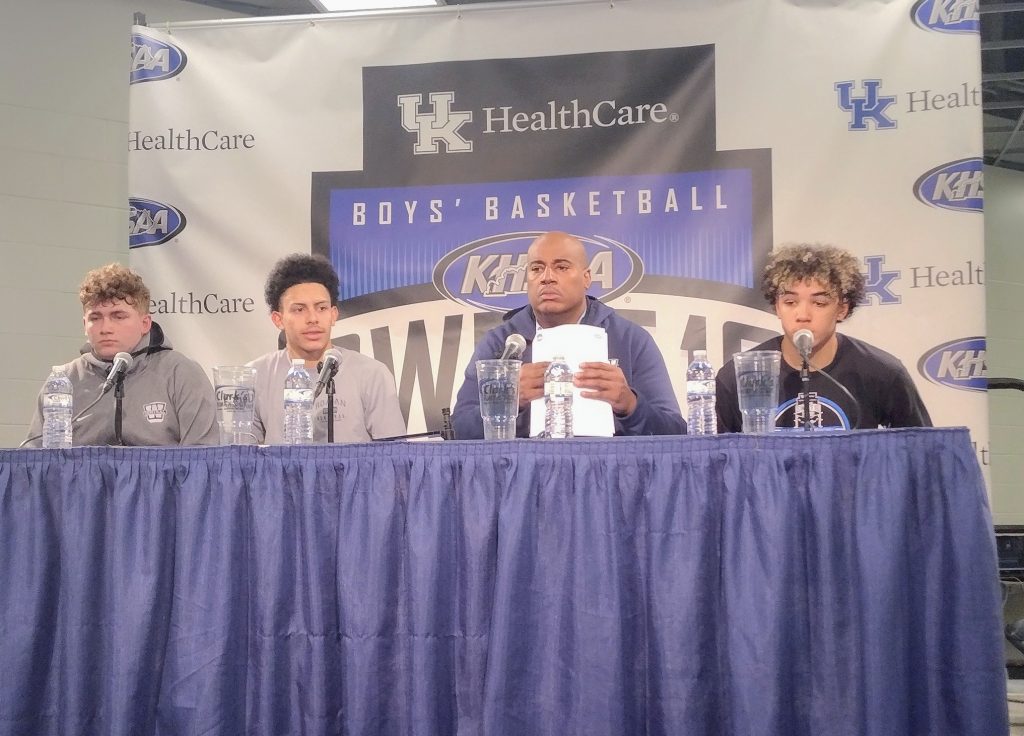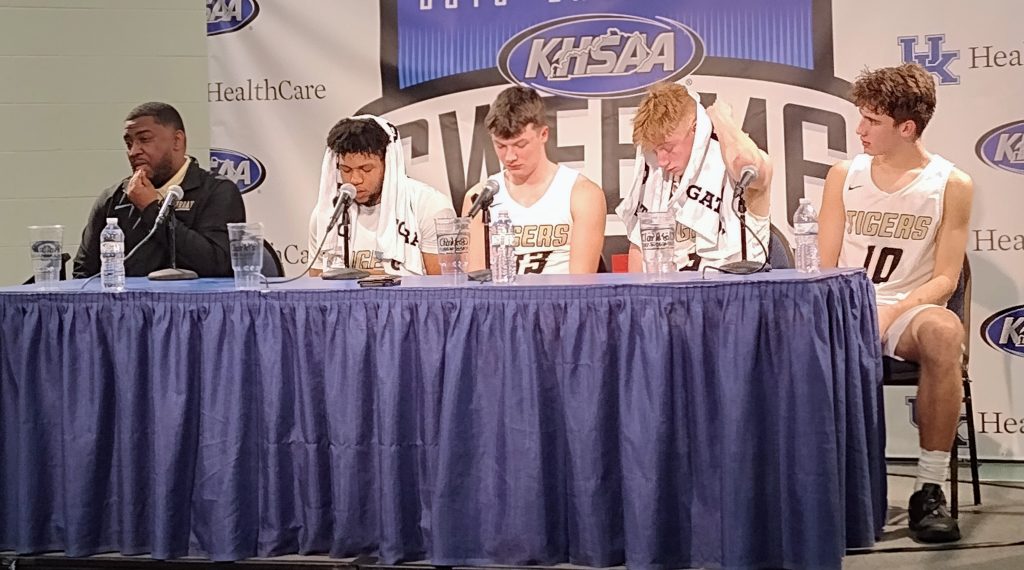 "Wouldn't have it any other way," William Unseld said when it was over. "This is why we play, this is what we're playing for."
Murray finishes a splendid season under coach Dior Curtis with an impressive 26-7 record, but the Tigers couldn't roll with their first-half momentum. They scored just 15 points after halftime, hitting one of five 3-pointers while shooting 41 percent from the field.
In the first quarter, Murray was on fire from the perimeter, shooting 71 percent from the field while hitting 3 of 4 3-pointers.
"They started to pressure us a little more, defensively," Curtis said. "We just couldn't make the shots when we needed them … Our guys played their tails off. I'm just so happy for our team, our school, our community.
"They made the most of their chances in the fourth quarter."
Kade Unseld's clutch 3-pointer to open the fourth quarter put Warren Central in front, but the Dragons needed a lot of big plays to keep the Tigers at arm's length. They also got a big contribution from junior forward Dalton Farley, who has had limited playing time during Warren Central's drive to the semifinals over the last three weeks.
Farley, a rough-and-tumble guy who also plays football at Warren Central, played eight minutes and grabbed a couple critical defensive rebounds. He was thrust into action when WCHS forward Chappelle Whitney picked up his fourth foul with 1:36 left in the third quarter.
Unseld brought Farley to the postgame press conference along with his son, Kade Unseld, and junior point guard Izayiah Villafuerte. Villafuerte had a splendid game, finishing with nine points and seven assists — without a single turnover — in nearly all 32 minutes of the game.
"Dalton Farley was huge for us tonight, in the fourth quarter," William Unseld said. "We don't win without him. He's a big, strong guy and he moves his feet well. He gave us a presence in the paint."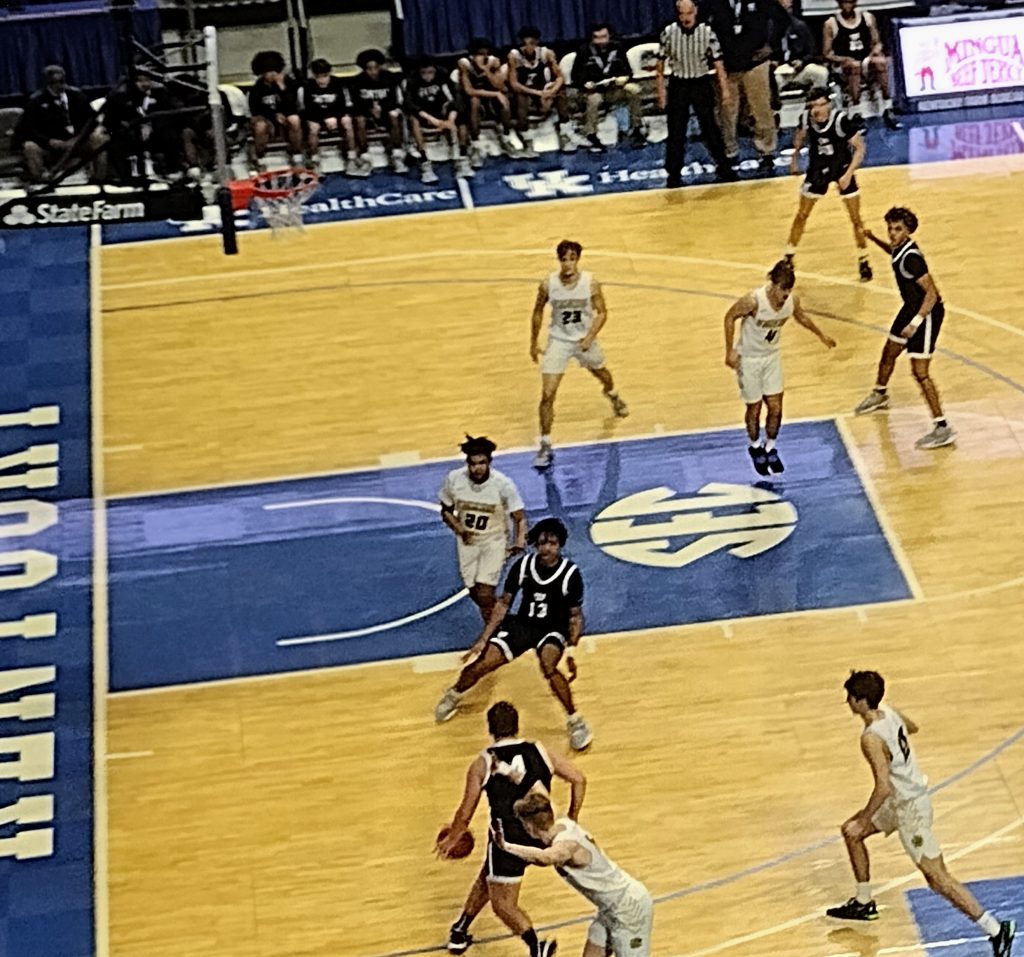 Farley was modest but admitted it was a special thrill to have such an impact in a Sweet Sixteen game.
"I know my role, I knew what I was supposed to do," Farley said.
The Dragons' vaunted defense had trouble with Murray's deft outside shooting touch in the first half. Junior guard Matt Whitaker played the entire 32 minutes for the Tigers, leading them with 23 points on 11-of-16 shooting, six rebounds and two blocked shots.
"Whitaker's a heckuva player, really competitive," William Unseld said.
Senior forward Jaiden Lawrence led the Dragons with 13 points, on 4-of-10 shooting, while adding six rebounds and three steals. Junior WCHS guard Omari Glover, the catalyst in the Dragons' 57-54 upset of Louisville Male on Thursday, finished with 11 points and five rebounds.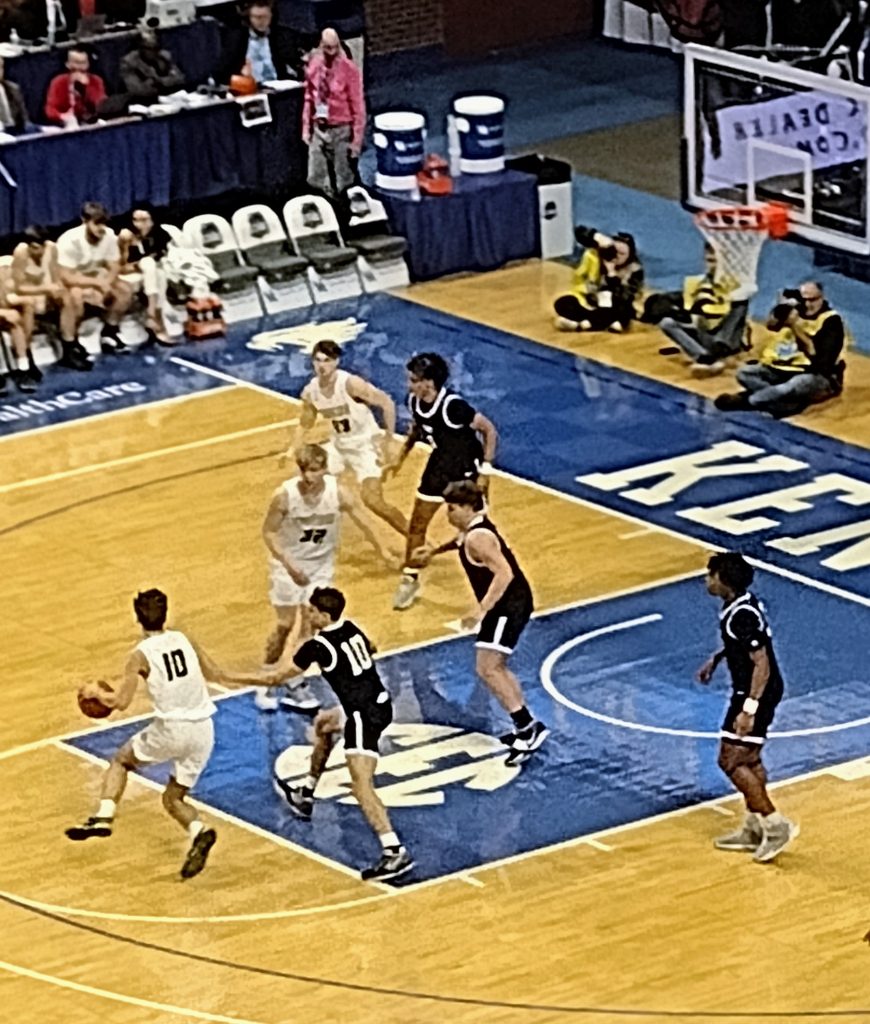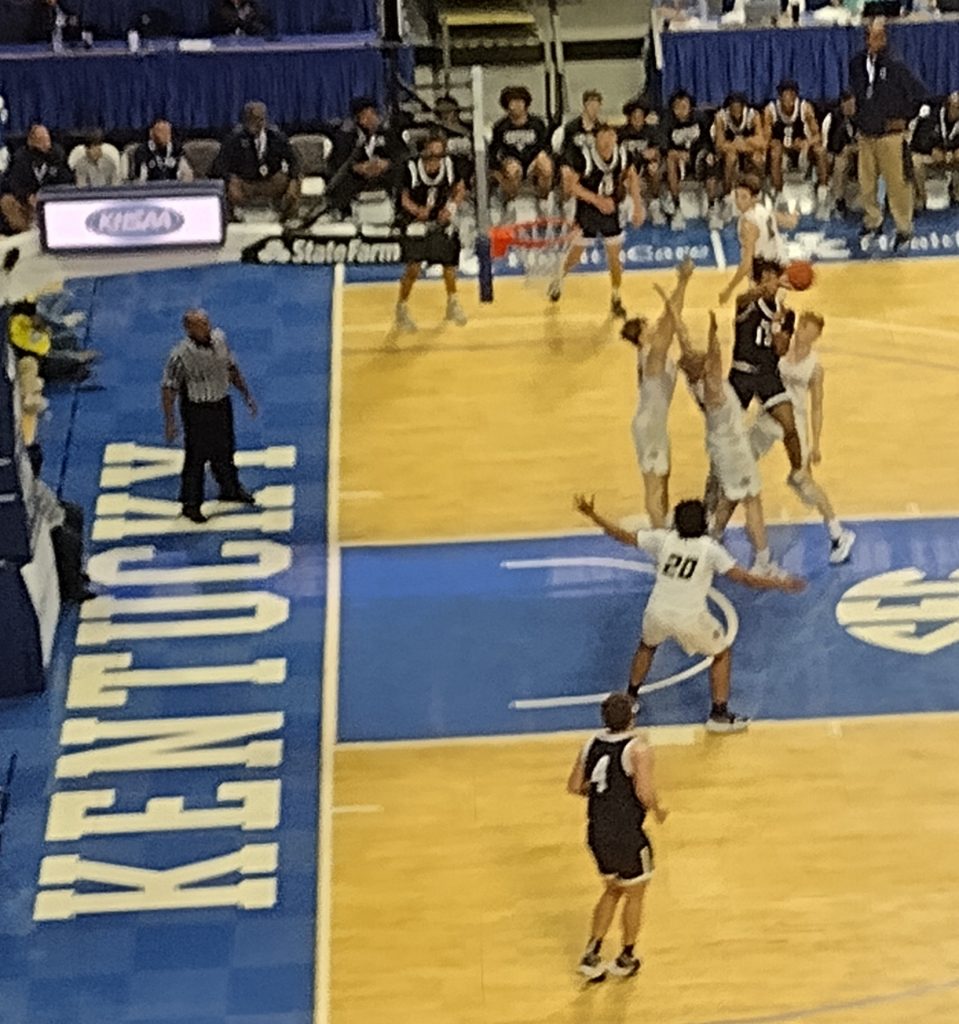 Kade Unseld had 10 points for Warren Central, while Chappelle Whitney finished with nine points in just 16 minutes on the floor.
The Dragons will face a physical Covington Catholic team on Saturday. The Colonels (30-4) withstood a late charge from Lyon County to reach the semifinals. Lincoln County (30-7) will face George Rogers Clark, a Lexington high school, in the first semifinal at 10 a.m. CDT Saturday.
George Rogers Clark stopped Pikeville 43-38 in the first quarterfinal game on Friday, while Lincoln County advanced with a 56-46 victory over North Oldham.
George Rogers Clark is 30-1 on the season, and the Cardinals' lone defeat was a 59-57 loss to Roebuck High School, a South Carolina squad, in the King Of The Bluegrass Tournament on December 19 at Fairdale High School.
William Unseld was anxious to get his players back to the hotel for a post-game meal and some rest with an unusual challenge waiting for the Dragons on Saturday afternoon.
Two wins for the prestigious KHSAA state championship. Warren Central will be making its third Sweet 16 semifinal appearance in five years, and only the dawn of the COVID-19 pandemic kept the Dragons from getting a chance to do the same, or more, in 2020.
"You just want to get to the finish line," William Unseld said at the dais. "We've just got to get these kids back to the hotel, get them fed, some treatments, ice baths …
"This game was a fight to the finish."