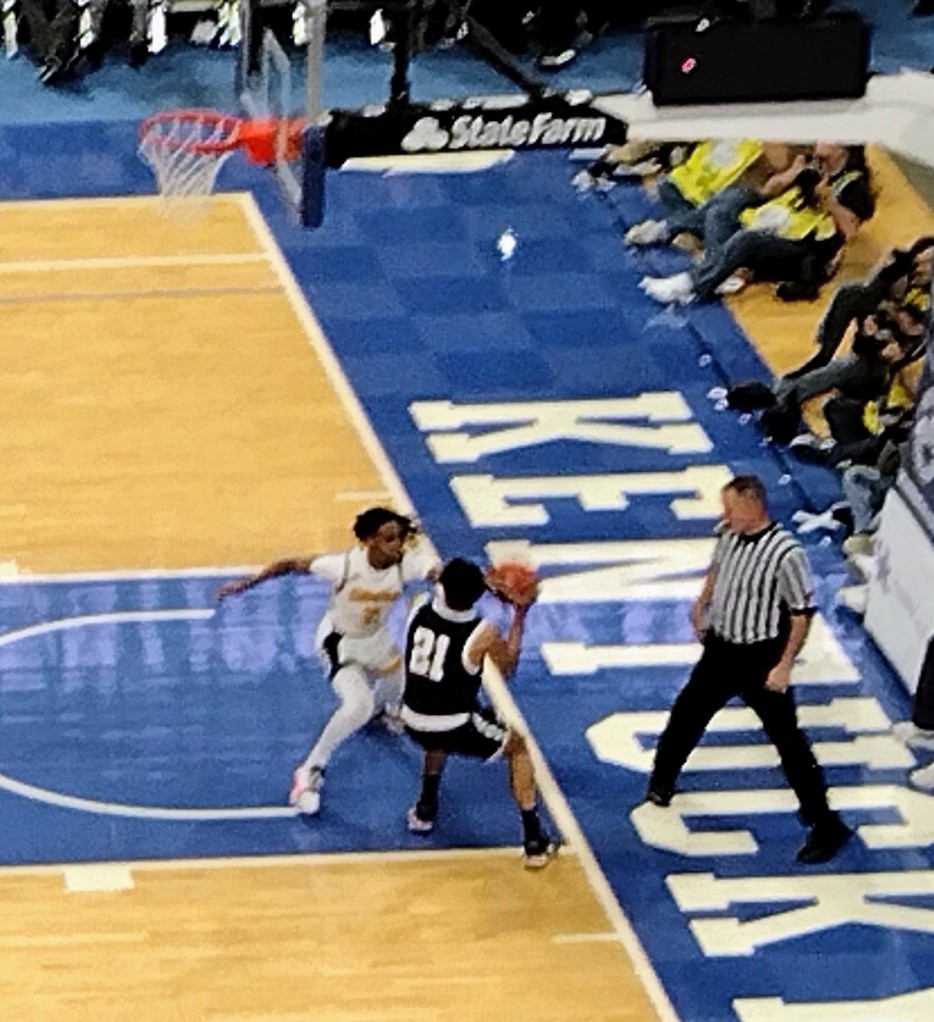 DRAGONS IMPROVE TO 35-1, WILL PLAY FOR STATE CHAMPIONSHIP TONIGHT
LEXINGTON — Warren Central High School's No. 1-ranked boys basketball team is on a mission, and the Dragons are almost there.
One more mountain to climb. A big one. As in, a rematch with defending state champion George Rogers Clark High School.
Warren Central turned in a strong defensive effort and thoroughly outplayed Woodford County High School down the stretch to muscle its way into the KHSAA Sweet Sixteen championship game for the second consecutive season.
The Dragons built a lead early in the fourth quarter and never wavered as they turned back Woodford County at the defensive end of the floor. Warren Central improved to 35-1 with the hard-fought, 56-48 victory, while extending its amazing winning streak to 25 games.
In the second semifinal, George Rogers Clark's Jerone Morton scored 20 points, while teammate Sam Parrish added 13, to send the Cardinals to a 51-44 victory over Lexington's Frederick Douglass High School. GRC improved to 30-5 while Douglass finished its season with an impressive 33-3 record.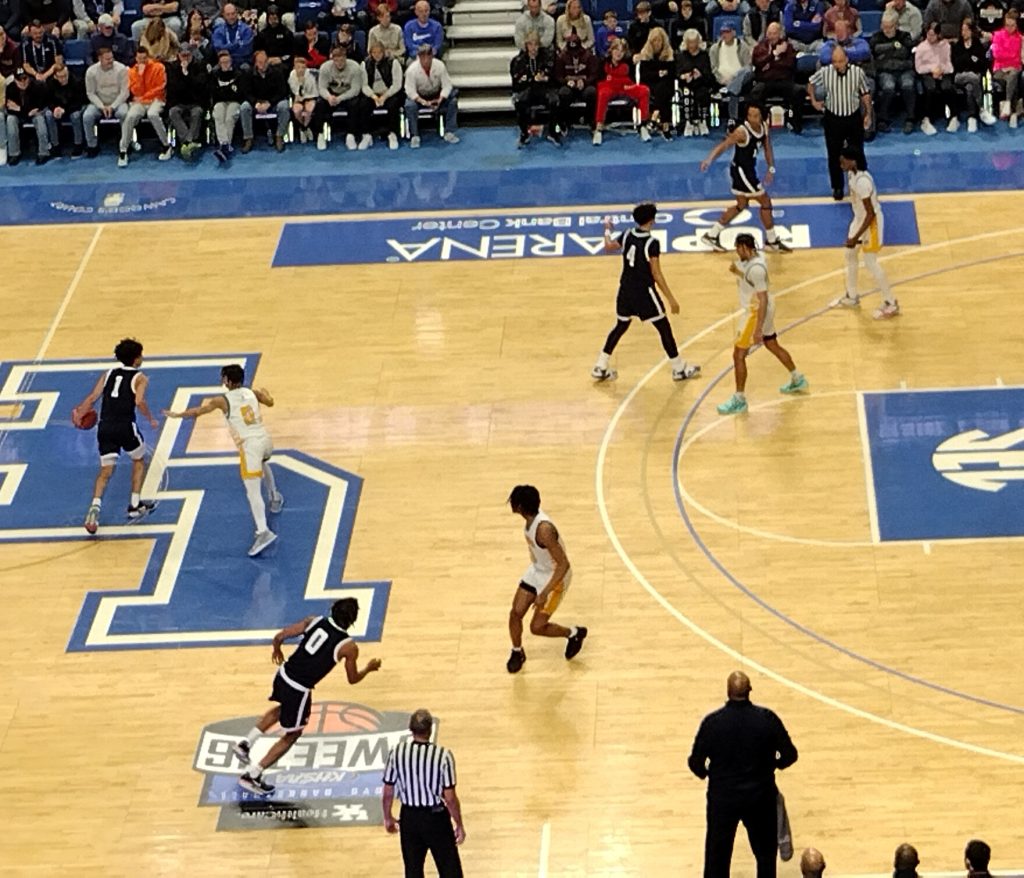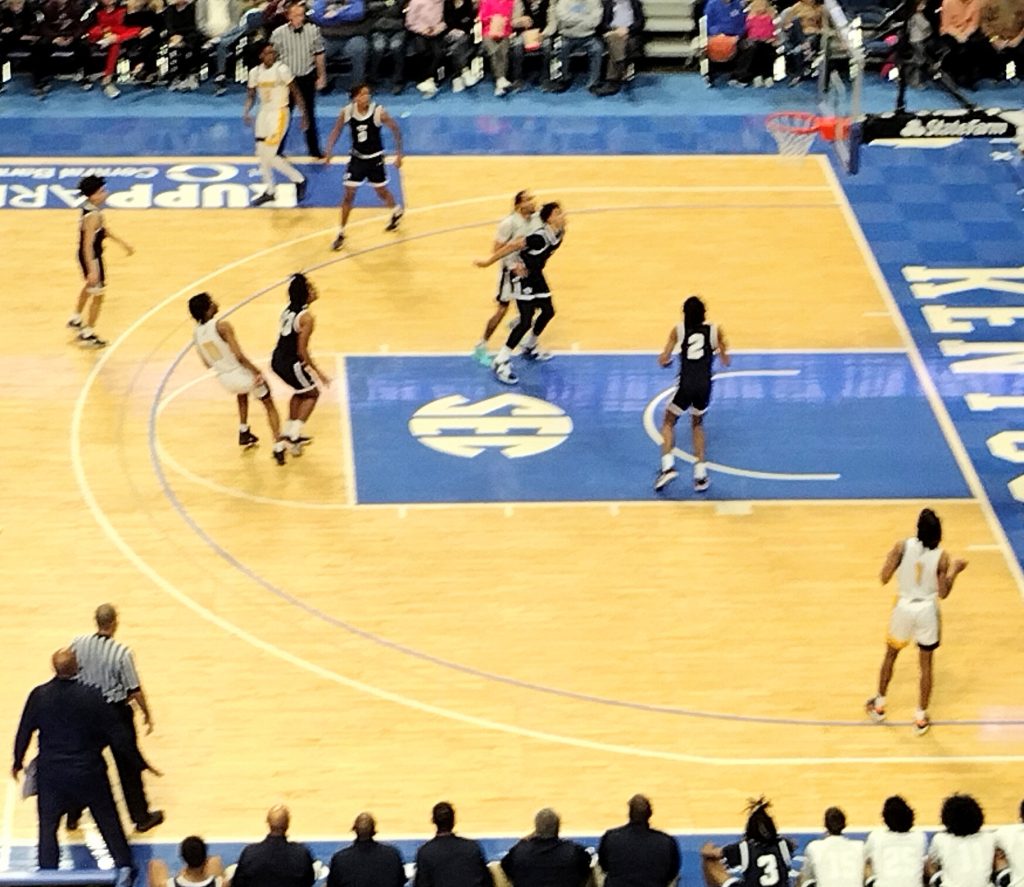 Warren Central outscored the Yellow Jackets 21-13 in the final quarter. Chappelle Whitney, the Dragons' KHSAA 4th Region Player of the Year, was relentless for the third straight Sweet Sixteen game. Whitney hit 8 of 13 shots, most of them within six to eight feet of the basket, while leading all scorers with 18 points.
In a low-scoring, half-court game many probably expected, Whitney's score line read 28 minutes, 18 points, nine rebounds, five assists and four turnovers.
The Dragons need an aggressive offensive approach to eliminate the Yellow Jackets, who got off to a slow start in part because Woodford County had an extended football season.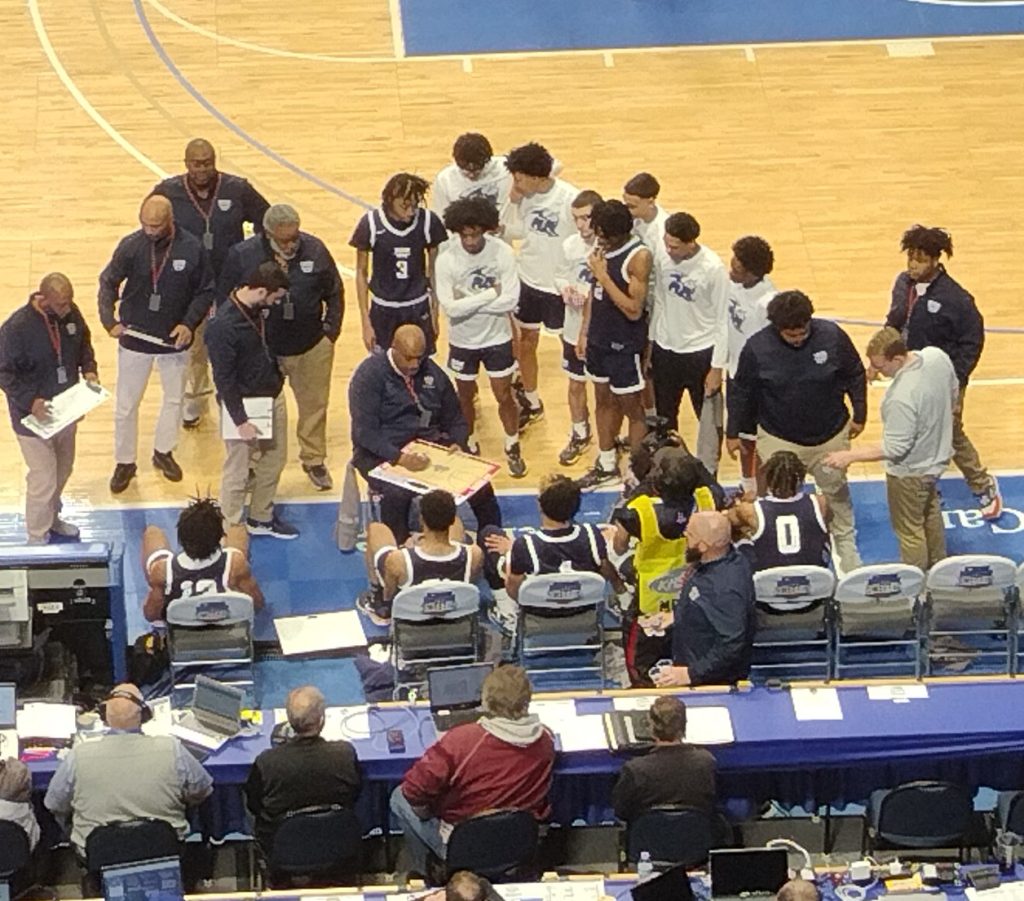 Woodford County finished its season 22-13 overall. Warren Central limited the Yellow Jackets to 43 percent shooting — while the Dragons shot 53 percent from the field themselves — while finishing with yet ANOTHER whopping advantage on the boards.
Warren Central finished the game with 31 rebounds, while Woodford County managed 18. In three Sweet Sixteen games, the Dragons have outrebounded their three opponents — Pulaski County, Ashland Blazer and Woodford County — by a staggering 93-45.
Let that sink in.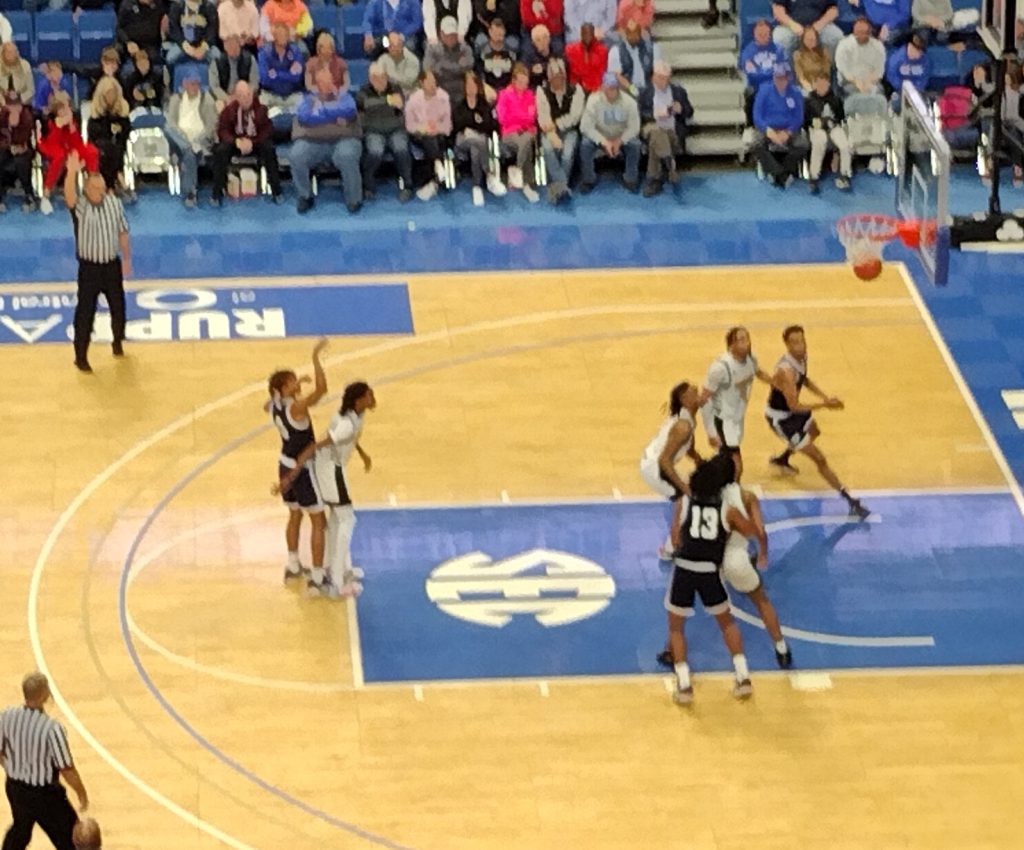 Veteran Warren Central head coach William Unseld said before the tournament that "defense and rebounding" would be the keys to victory. The KHSAA Sweet Sixteen atmosphere — played at famed Rupp Arena, the home of the University of Kentucky Wildcats — seems to lend itself to low-scoring games. Officials also seem a little hesistant to slow down the action with frequent whistles, holding to the notion of "letting the kids decide it."
Anyway you slice it, William Unseld was pleased with his team's effort.
"I thought we did a great job defensively … especially to hold them to 48 points," Unseld said.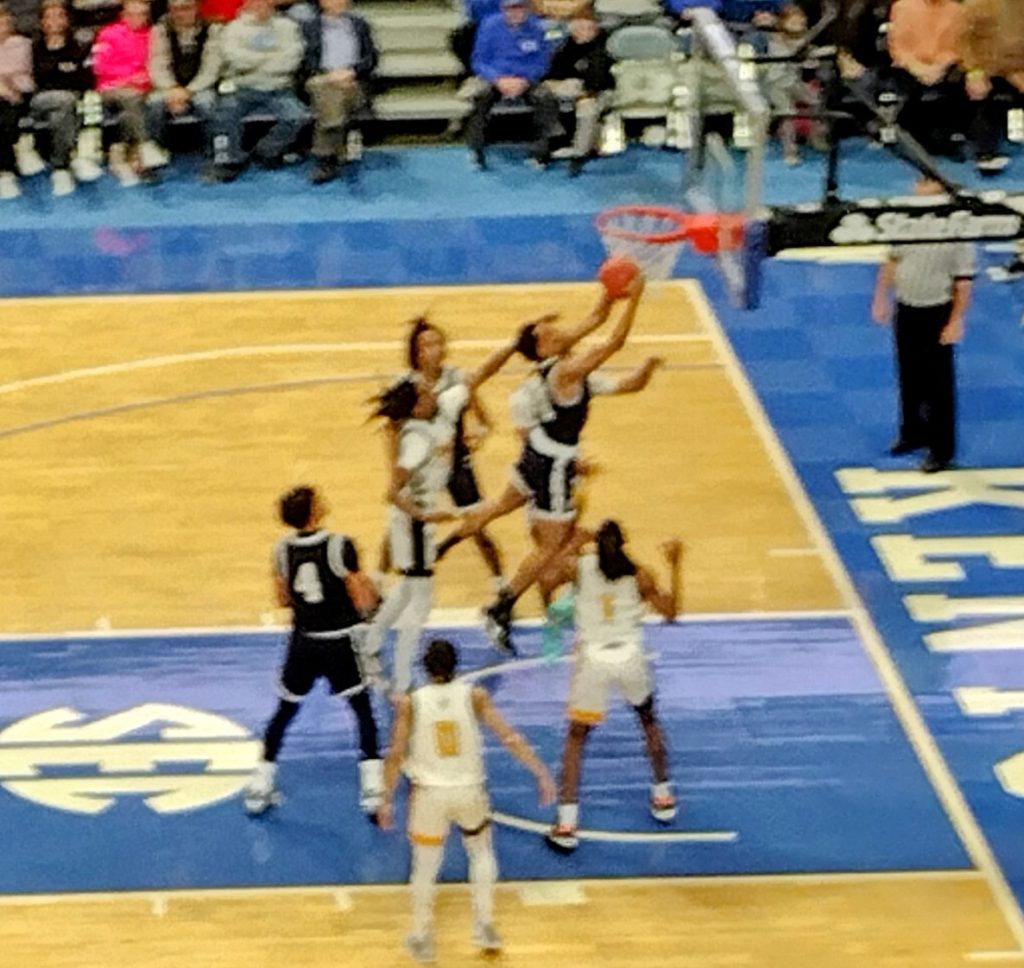 Kade Unseld, the son of the Dragons' head coach and the only junior in the starting lineup, has established himself as a deadly 3-point shooter in this tournament.
Kade Unseld hit 6 of 11 shots, including a 2-for-6 showing from 3-point range, and finished the game with 17 points, three rebounds and three assists. Damarion Walkup, perhaps the Dragons' best defender, added 16 points and four rebounds.
"We got stops when we needed to," William Unseld said. "We scored when we needed to … we knew it was going to be a tough, physical game. (Woodford County is) athletic. They played well down the stretch."
Woodford County got to a slow start out of the gate, hitting just 18 percent of its shots in the first quarter. In the final quarter, the Yellow Jackets were hamstrung by some questionable shot selection, and Warren Central kept them at arm's length for the final three minutes or so of the game.
"We've had a great season," Woodford County coach Jaron Brown said. "It's not the way we wanted it to end, obviously … We made history, getting to this tournament. We took it as far as we could."
Damarion Walkup said the Dragons anticipated a physical game with Woodford County, which has several members who play football at the tradition-rich school for that sport.
"We expected it to be that kind of game," Walkup said. "We knew they were going to play physical, but we got plenty of that in our first two games up here. You have to be ready for those kinds of things, in this kind of environment."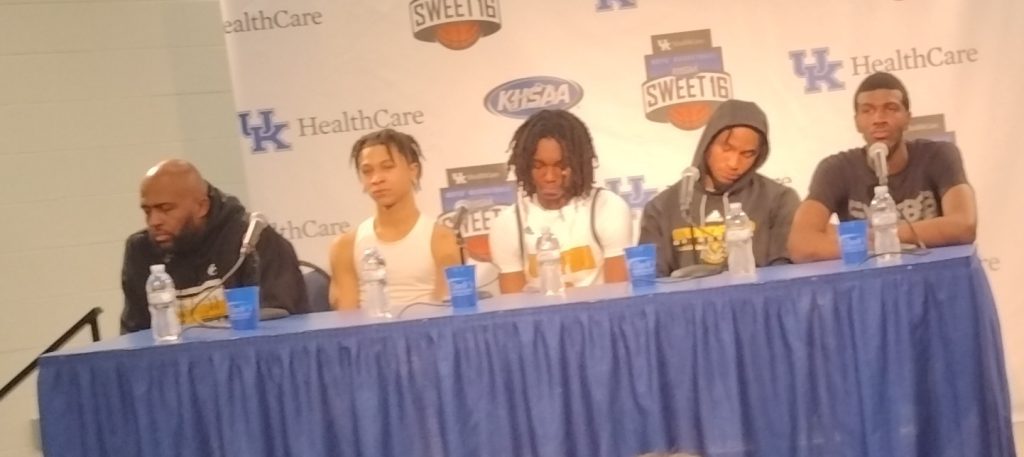 Tonight's championship game will be a rematch of last year's title tilt, with George Rogers Clark High School slipping past the Dragons, 43-42. Warren Central lost two players from that 32-4 squad, shooting guard Jaiden Lawrence and backup forward Dalton Farley. Lawrence is now playing JUCO basketball in Illinois and hopes to be playing NCAA Division I basketball next season.
George Rogers Clark enjoyed a significant logistical advantage in that game, playing in the first semifinal against Lincoln County. GRC needed two overtimes to knock off Lincoln County, 54-51, to push the Dragons' semifinal game with Covington Catholic even further into the afternoon.
Warren Central won that semifinal, 61-58, before returning to the team hotel for a quick meal — and, at best, a catnap — because the clock was ticking for the championship game that night.
Warren Central's William Unseld joked about that memory at the postgame press conference, with the understanding that his team could get some legitimate rest for the championship game. George Rogers Clark knocked off Lexington's Frederick Douglass High School, claiming a 51-44 victory in the second semifinal.
"It's gonna be a big-time matchup," Unseld said. "I'm hoping it goes five or six overtimes … until about 5 o'clock …"
Warren Central had a day off on Thursday, after opening the tournament with an 80-55 shellacking of Pulaski County. While evaluating the season to date, William Unseld was complimentary of his senior class, and the group's dedication and attention to detail.
The Dragons start four seniors — Chappelle Whitney, Omari Glover, Damarion Walkup and Iziyiah Villafuerte — along with one junior, swingman Kade Unseld, the son of the team's head coach.
"They've been focused on the mission at hand," William Unseld said in the Rupp Arena stands on Thursday night.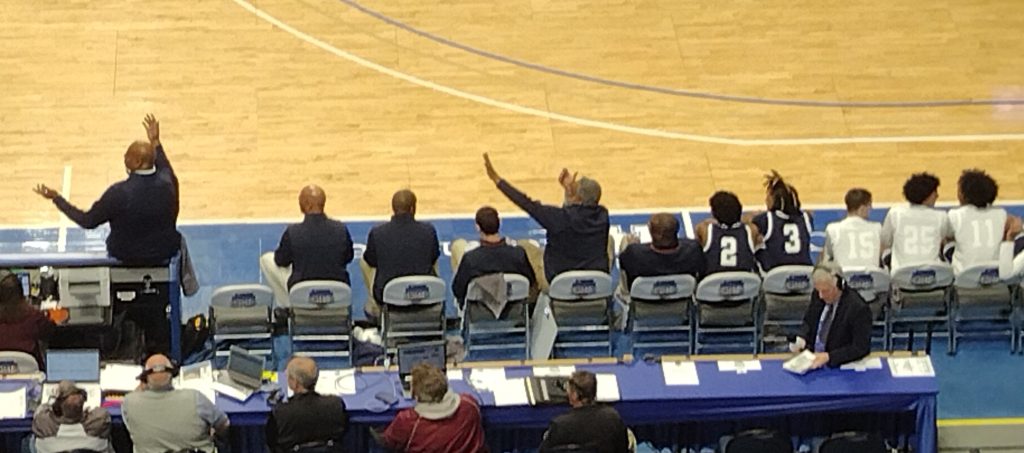 Warren Central is looking for the school's second state championship in school history. In 2004, fprmer WCHS coach Tim Riley — now the head coach at Owensboro Catholic High School — guided the Dragons to a 66-55 victory over Mason County in the KHSAA Sweet Sixteen championship game at Rupp Arena.
Warren Central's Damarion Walkup, for one, can't wait for another shot at George Rogers Clark with a state championship on the line.
"We have to get it done," Walkup said. "The job's not done, yet."
I'll have more on the matchup later this evening. Thanks for reading.